When I mentioned to a New York City restaurant publicist that I was heading to DC for the weekend, she said I must try Bidwell, Chef John Mooney's responsibly sourced restaurant at Union Market.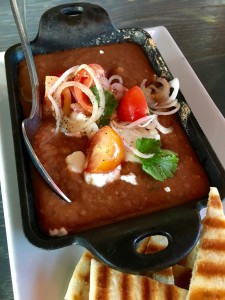 Bidwell's actually offers roof to table cuisine, as much of the produce served at the restaurant comes their own crop of fruit and vegetables grown in planters on the roof. They also butcher own meat.
As their guest, we were able to sample many of their offerings, starting with their most unusual sushi-grade tuna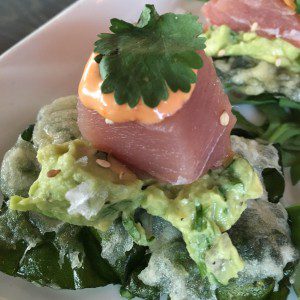 nachos. That contained chunks of tuna nestled into guacamole atop tempura battered kale chips with a soupçon of spicy chipotle mayo. Not to be missed! Neither is their drunken bean dip. It's made from dried beans rehydrated in beer; pureed with garlic, shallots and fresh herbs and served warmed topped with slivered onions, halved tomatoes, fresh cilantro and crumbled goat cheese that punctuates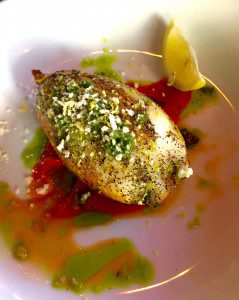 the dip. Grilled flat bread accompanies it. Irresistible! In fact, we ordered a second batch of the bread to be sure we got every drop.
Their crispy deviled eggs had a bit of the spice in them with added roasted jalapeños. I would have preferred much more of the peppers added to the mashed yolks before panko-crusting and deep-flash frying. The three fried halves came atop arugula with a side of buttermilk-ranch dipping sauce.
My dining partner was not a squid lover, but I did convince him to take a bite of Bidwell's unusual preparation. The squid, stuffed with housemade chorizo sausage, sat in a puddle of roasted piquillo pepper sauce. I could have eaten two!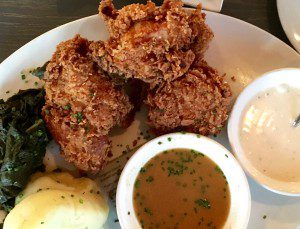 With our entrees, we did order a couple side. Me, my typical order of fries ($6). These organic ones were cooked in a dedicated fryer, meaning those who truly for health reasons need gluten free could enjoy them. We scarfed up every noodle of the rich, but not overly creamy mac and cheese.
The Verlasso salmon was a bit overcooked, arriving well done atop a thin slice of roasted until caramelized cauliflower. We ate every flower of the cruciferous veggie, but left the half the salmon. Now the sustainably sourced fried chicken is another story. We were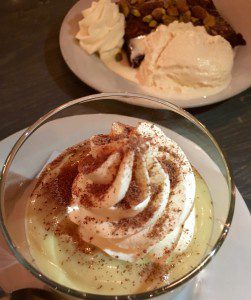 there on a Thursday, which is Fried Chicken night.  Although it had a bit too much breading, the deep-fried half chicken was so moist, I (a dark-meat devotee) ate and relished each bite of the white meat. The mashed potatoes, braised kale and gravy were superfluous.
The pistachio topped warm chocolate brownie came with vanilla ice cream and unsweetened whipped cream; the smooth, housemade butterscotch pudding also with whipped cream topping. I was too satiated to appreciate them but my skinny dining partner finished every drop.
If you're in DC, I would recommend a trip to Union Market to experience Bidwell's as it is worth it.
– bonnie
BonnieBOTB
Follow @BonnieBOTB

Bidwell
Union Market
1309 5th Street Northeast
Washington, DC 20002
(202) 547-1309