During the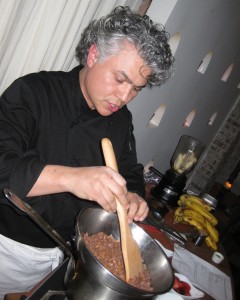 Global Tastes Restaurant Tour as part of Sneak Peek Week in New Haven, Arturo Franco-Camacho demonstrated this incredibly easy Banana Terrine.
Seriously — you can make the actual terrine in a few minutes with melted chocolate, heavy cream, overripe bananas and a blender or food processor.
To do so, melt 1 pound of milk chocolate in the top of a double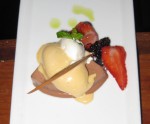 boiler set over boiling water. Bring 5 ounces of heavy cream to a boil in a heavy saucepan over medium heat.  Blend the melted chocolate, the hot cream and 3 peeled overrripe bananas in a blender or food processor until smooth. Pour the mixture into a Saran Wrap-lined terrine or loaf pan and refrigerate overnight. Then, slice and serve.
For our sampling, the Bespoke  staff plated and served the banana terrine topped with dulce de leched gelato and a banana caramel sauce — garnished fresh fresh berries and a crisp cookie and served it with a Paringa Sparkling Shiraz – a perfect match for this dessert.
And this restaurant tour also had a dance component as server Neil taught a sampling of salsa dancing  to the delight of all the participants.
Bespoke, 266 College Street, New Haven, 203.562.4644
www.bespokenewhaven.com