Headed to Tribeca recently to sample a medley of diverse regional Indian dishes at Benares, the second
outpost of the restaurant. You'll find the first in Hell's Kitchen.
I began with a tasty cocktail, the Varanasi with Hornitos Blanco tequila, roasted pineapple, and housemade orange liqueur and chili laced grenadine ($10). My friend had a tasty blend of vodka,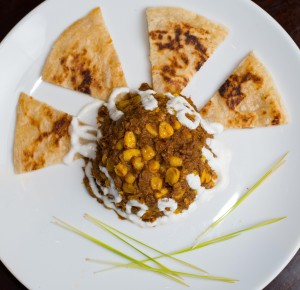 Pavan, orange juice and cranberry juice. That one was so refreshing that I ended up making this one at home with the leftover Pavan from when we tested it. I used equal parts of each, resulting in a delicious cocktail!
With those libations,  we nibbled the colorful lotus-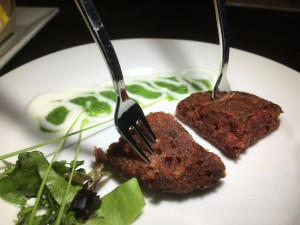 leaf looking rice crackers with three dips/sauces of varying heat levels, a tamarind, mint and orange mango.
When you look at my photos, realize that many of these are mini portions of various dishes, because as their guest, the manager gave us only samples many of their tasty dishes.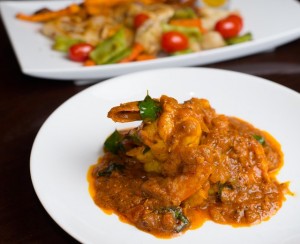 We started with the lightly battered cauliflower in a tangy sauce (Khasta Gobhi, $8),  smoky chicken marinated in yogurt, served with mint sauce (Chicken Tikka Smokey, $13),  lamb marinated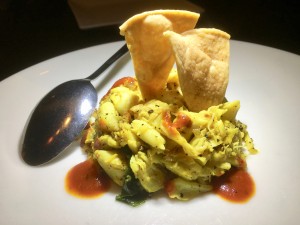 with papaya (Galouti Kebab, $13), the unusual beet and roasted turnip patties made with fennel, ginger, garlic and cumin (Kashmiri Tiki, $8), the lamb marinated in yogurt served with fresh corn (Makkai Ka Soweta $13), turnovers filled with ginger and cumin potatoes and peas with tamarind chutney (Adraki Samosa $8), garlic and ginger seasoned lump crab with roasted coconut (Crab Chettinadu, $16)  and the pan-seared scallops with a tomato-green chili and ginger sauce topped with mango-tomato relish (Tawa Scallops $15). I would order each one of those when I returned. Not so the Dahi Ke Kebab ($8), as the fried yogurt patties were just a bit too bland for me.
We also had a couple of entrees with a side of rice, the spinach and cheese Saag Paneer ($15) and the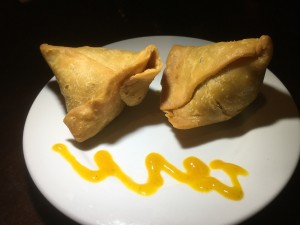 not-to-be missed warm from the oven naan ($3). The entree I would recommend is the marinated  jumbo prawns  grilled and simmered in coconut milk curry (Cheema Thenga $24)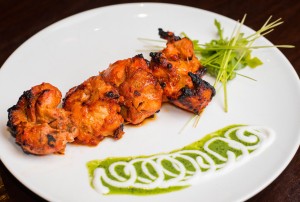 Otherwise, I'd order as many apps as you had room for as those — like at most restaurants —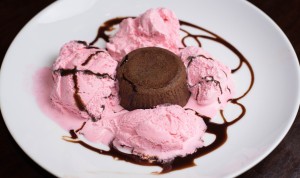 are definitely my favorites.
We did end with the Atomic Bomb, an unusual dessert of a warm chocolate brownie surrounded by scoops of rose-flavored ice cream.
– bonnie
BonnieBOTB
Follow @BonnieBOTB
Benares TriBeCa
Tribeca
45 Murray Street
New York, NY
212-766-4900
www.benaresnyc.com

Save