This simple recipe for beet salad combines both red and golden beets, crumbled cheese and toasted nuts, all drizzled in a tangy, citrus vinaigrette with a mini-kick from  Tabasco sauce.
BEET SALAD WITH SPICY CITRUS VINAIGRETTE
10 small red and/or golden beets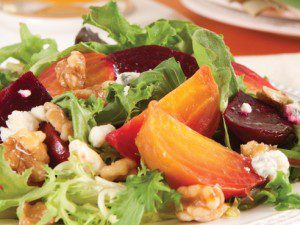 2 T orange juice
2 T white balsamic vinegar
1 t  Tabasco sauce
1 t honey
1/4 t salt
1/4 c extra virgin olive oil
3 c  baby lettuce greens, frisée or arugula
1 c walnuts or almonds, toasted and coarsely chopped
1/2 c  blue cheese,  feta cheese or goat cheese, crumbled
Heat the grill or preheat oven to 400° F.
Cut off tops of beets; place on large sheet of foil. Close foil to seal tightly. Place on grill in indirect heat or  on baking sheet and into the oven. Roast 45 minutes or until tender when pierced with a fork. Remove from heat; let beets steam in foil for 10 minutes before opening the pouch to let cool.
Combine orange juice, vinegar, Tabasco sauce, honey and salt in small bowl. Slowly whisk in olive oil until blended to make a dressing.
When cool enough to handle, remove skin from beets and cut into wedges; toss with half the dressing. Let stand 10 minutes to marinate. Toss greens with remaining dressing to serve.
Place on serving platter. Top with beets; sprinkle with nuts and crumbled cheese.
Makes 6 salad servings.
– Adapted recipe and photo courtesy of  McIlhenny Company