Finding a place to get something to eat in Brookfield Place is not hard; finding a place with table service takes a bit more looking. We did just that ending up in the French restaurant Beaubourg in Le District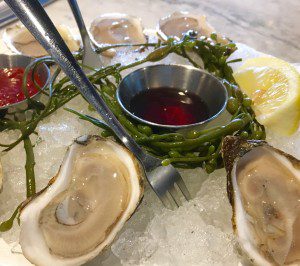 after a site visit at ICE (Institute of Culinary Education) for an upcoming event.
My friend started with half a dozen fresh East Coast oysters ($18).  I was craving a cheeseburger and fries ($18), having just arrived home from Cuba. I ordered mine medium; my dining partner rare. No surprise, they both arrived rare. They took mine back, returning it well-done – which is often the case.
Our well-trained waitress took it back and started over again and then gave us each another class of the Sémillon (Petite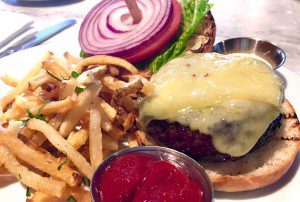 Sirène, Bordeaux, 2014, $38 / carafe) we were drinking for our troubles. I liked that. And started in on how that's what management should have done at my meal at La Guarida — the upscale restaurant — in Havana, Cuba when unruly rowdy millennials tossing back shooters and screaming as if they had been drinking in a nightclub all night disrupted the dining room.
Kudos to Beaubourg for keeping the customer happy! I'd for sure return, and next time try something a bit more French.
– bonnie
Follow @biteofthebest
BonnieBOTB
Follow @BonnieBOTB
Beaubourg
Financial District
225 Liberty Street
New York, NY 10080
(212) 981-8589