When three food writers get together for a meal — and one of them owns the restaurant — you can be sure the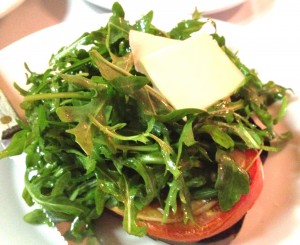 re will be lots of good eatin'. That's exactly what happened recently when Stephen Fries, Claire Criscuolo and I dined at Basta.
Basta, located adjacent to Claire's award-winning vegetarian restaurant Claire's Corner Copia, uses the freshest organic and sustainable ingredients.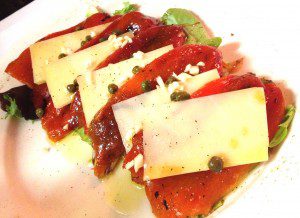 We started with their arugula bruschetta made with wood-oven-grilled house made ciabatta bread, topped the  sliced organic heirloom tomatoes, Liuzzi's locally produced scarmorza cheese, and organic baby arugula that's been tossed in extra virgin olive oil (EVOO), fresh squeezed organic lemon juice, Sicilian sea salt and cracked pepper ($12). Almost a meal in itself.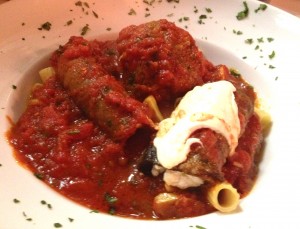 Next we sampled an artfully presented salad of roasted organic red bell peppers slices, interspersed with grana padano and sprinkled with capers and EVOO; and their Ricotta di' Natale: hand-packed ricotta cheese, lightly toasted shaved almonds and berries drizzled with organic lemon-rosemary honey ($10).
Our entrees included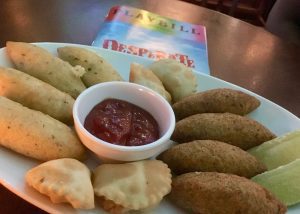 Basta's classic Italian Sunday Dinner, based on the traditional meal served in Italian homes on Sundays when the family gathered. That hearty meal includes a tender meatball (Connecticut magazine says best in the state), Italian sausage, eggplant rolatini and rigatoni pasta in a in San Marzano tomato sauce  ($24).
We also sampled the delicate branzini piccata (a simple lemon, parsley and butter sauce) cooked to perfection, topped with artichokes and served with mushroom risotto and braised organic kale.  Claire had her favorite house made parppardella with a simple San Marsano tomato sauce garnished with freshly grated cheese.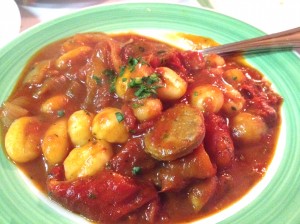 I'm not sure how we had room, but Steve and I also shared a special of tender gnocchi, Italian sausage in a fresh tomato sauce, then said  "Basta" (Italian for enough!)
– bonnie
Basta Trattoria
1006 Chapel Street
New Haven, CT
(203) 772-1715