Bonnie: My mailbox overflows with chocolate samples. Yes, yes it's a hard job but someone has to do it! So when I received my samples of the Barefoot Contessa's dark chocolates, they sat on my desk with no urgency for me to taste test.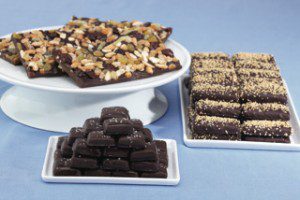 But then one evening when craving something sweet, I tried a piece of her flavorful toffee. I was hooked. The next day, I went back for another piece and then hid the box from my view.
These were so good, I had to try the salted caramels. They were even yummier – buttery caramels dipped in rich dark chocolate and then sprinkled with sea salt.
Next I took a smidgen (yes, only a smidgen) of the dark chocolate bark. Knowing I'd end up eating the entire bar if I didn't get it out of the house, I packed it in my suitcase for my recent trip to China and shared it with my very happy traveling companions.
This dark chocolate bar is topped with ginger, cashews and fruit (cherries, apricots, raisins).
The only caveat with these confections is that they're very pricey, which is why we're calling them an "Extravagant Extra." Perfect for a hostess gift.
Bryan: Though I'm still a fan of the channel, I'm definitely not the same Food Network junkie that I used to be. There was a time when the foodie programming lineup was one of the few go-to's for my TV watching… A little Mario Batali, a bit of Bobby Flay, a smidge of Alton Brown, a dash of Robin Miller, mix in some Iron Chef and end up with something mouth wateringly entertaining.
A much more hectic work schedule and the introduction of some amazing soccer channels to my cable service have limited my Food Network consumption over the past few years, but I can still remember Ina Garten. Ina hosts Barefoot Contessa, a show I always found reminded me of Bonnie's cookbook, Country Entertaining (objectively, a beautifully designed coffee-table book for foodies). Ina is almost like the Mr. Rogers of cooking shows: A soft-spoken, wonderfully friendly chef with a voice and demeanor that just exudes calm. Like a truly warm-hearted version of Martha Stewart, you know, without the 'tude.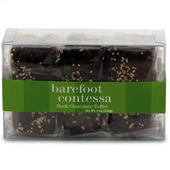 Like every good FN star, Barefoot Contessa has allowed her name to be attached to a number of food and kitchen products. Though there is always danger in merchandising (attaching your name and branding to others' products can dilute your existing appeal/following if your fans don't agree with your quality assessments), I have found that many of my favorite foodie personalities continue to lead me down the right paths — and Ina has done just that.
Mmmmmmmmm…. I love when I end up making sounds as I open packages. I didn't even mean to, but I couldn't help but let out an anticipatory hum as I pulled the three packages of dark chocolate from the box at my door. Ooohh, Dark Chocolate French Bark… Aahhh, Dark Chocolate Toffee… OMG! Dark Chocolate Sea Salt Caramel! Each package more engaging, more delightful than the next!
This is an astoundingly good (if just a little pricey) new line of sweets. The sea salted caramels have just enough of a touch of coarse salt topping them, masterfully heightening the flavor and impact of these rich, chewy treats. They are so wonderfully powerful that I've literally been working on a one-inch square over the past three days! Though the caramels ran away with my affections, I must also note the French bark for being a rather unique taste combination. The 6.5-ounce bar is topped with cashews, dried apricots, cherries, crystallized ginger and raisins. Confusing at first, but very tasty!
A great gift for friends, family or yourself…
Eric: Chocolate, like most supermarket products, is produced and packaged in myriad ways so that choosing the richest, creamiest, most sweet-tooth satisfying option tends to turn into a crusade down the confectionery aisle.
Now I'm sure that for the majority of us, the traditional notion of "decadent chocolate" is synonymous with brands such as Godiva, Leonidas and Neuhaus — all thanks to Belgian marketing — and the idea of indulging in such options as milk or white varieties would be considered a laughable offense. To thee, I applaud.
The unfortunate downside to the American proclivity for European chocolate is the idea that all other chocolates are mere attempts at the product (my apologies, Mr. Hershey). To put it simply, chocolate has become an image rather than a taste — and it's up to the "small-batch" companies to make a difference. The Barefoot Contessa dark chocolates remind me to cheer for underdog; especially when it's in the form of dark chocolate.