I always look over my bill, as sometimes restaurants make honest mistakes.
Let me back up first. I stopped by Barcelona in New Haven recently on a Sunday evening after a movie at the Criterion. Our waitress informed us that bottles of wine were half price. Music to our ears!
We ordered a bottle of a 2009 Ochoa, a Granache and Tempranillo blend from the Navarra region of Spain — a bargain at $24 before the half price special. We then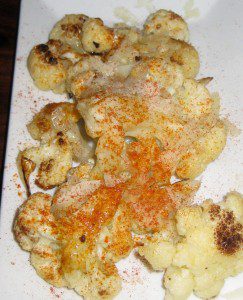 looked over the menu to select a couple tapas.
The sauteed cauliflower ($6.50) was perfectly cooked, sprinkled with Spanish paprika and Manchego cheese. Also delicious were the Chorizo with figs in a sweet balsamic-sherry glaze (8.50) and the Gambas al Ajillo — sauteed tail-on shrimp with guindilla peppers, garlic and sherry ($9.50).
We did send back the too-dry-to-eat overcooked sliced duck breast, which the waitress said she'd remove from our bill.
When the bill came, I glanced to see whether she had remembered to remove the duck. She had, but she charged us full price for the wine, and more than the listed menu prices for our tapas. Instead of $6.50 for the cauliflower the bill had $9!
My dining partner laughingly said, they probably think after a bottle of wine we wouldn't notice.
We noticed.
We called the waitress over, asked for a menu and mentioned our concerns. She took back our bill and said, "No problem, I'll fix it."
Knowing we were on to them, when the final bill arrived – they did charge us half price for the bottle of wine, and in their haste to fix the overcharge for the cauliflower, they undercharged us — at $6 instead of the $6.50 listed on the menu.
To say the overcharging left a bad taste in my mouth is an understatement. My advice to you if you stop by Barcelona for a meal: be sure to scrutinize your bill.
– bonnie
Follow @BonnieBOTB
Barcelona New Haven
155 Temple St
New Haven, CT 06510
(203) 848-3000
barcelonawinebar.com