Those who frequent restaurants in the New Haven area are familiar with the food and impeccable service of chef owner Jean Pierrre Vuillermet at Union League Cafe. Earlier this year Jean Pierre opened a more casual French bistro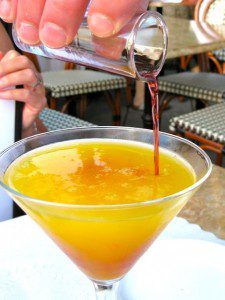 in Madison called Bar Bouchon, now it's Bar Bouchee.
Why would a restaurateur change names midstream? Not by choice.
It seems Thomas Keller (The French Laundry, Per Se) owns the rights to the word  "bouchon" and demanded the name change.
"A bouchon, in a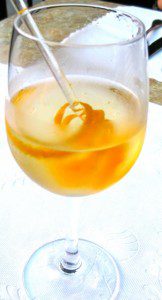 ddition to meaning cork or bottle stopper, is simply a French word used to describe a very special type of bistro," explained Vuillermet. "It would be like trademarking the word 'restaurant' or diner' here in the U.S."
So on March 1 of this year, Bar Bouchon became Bar Bouchee with Chef de Cuisine David Borselle, Jr. at the helm serving simple classic French food a this a neighborhood bistro. I must return to sample more as we arrived early from a matinee and had a light meal.  As the weather was still warm, we opted for terrace dining. In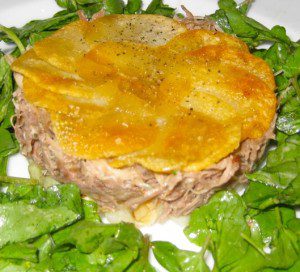 side service is at high tables and chairs or banquette.
We started with the martini special ($10.00) — a blend of of passion-guava puree, St Germain Elderflower liqueur and Absolute vodka finished tableside with Chambord, the black raspberry liqueur — and the classic French apperitif, Lillet blonde, straight up served classic style with orange peel. ($7.50)
As with Union League, I found the service exemplary as I'd expect dining in France.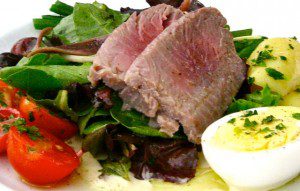 Not to be missed is the Duck Leg Confit, a combination of the rich tender meat from the duck leg with apples, watercress, walnuts and a thin — almost transparent — crisp potato galette ($10.75).
Also fabulous is their Salad Niçoise ($9.50/$18) with perfectly blanched haricot verts, fingerling potatoes, grape tomatoes, an anchovy,  hard-cooked egg, Nicoise olives and freshly cooked tuna.
To accompany our food, we ordered a Syrah, Grenache that the restaurant was out of. Our waiter Ken actually suggested a wine that was two-third less — not more than —the price of our original selection. (When's the last time that happened??) The Spanish wine medium bodied with some minerality, earthiness and complexity. A perfect match for our nibbles. The wine — Grenache, Spain, Evodia Altovinum '09 ($19!) — so good, I'm heading to my liquor store to buy some.
To finish, we sampled three chef-selected cheeses: roquefort, eclipse (a chèvre from New Jersey) and tomme de sovoie (a firm cow's milk cheese from eastern France near Grenoble). Delicious served a bit too chilled for my palate along with toast points. My preference is to enjoy cheese at room temperature as they're more flavorful.
Don't miss the intimate charm and good food of this bistro. Reservations a must.
– bonnie
Follow @BonnieBOTB

Bar Bouchee (formerly Bar Bouchon)
8 Scotland Avenue
Madison, CT 06443
(203) 318-8004