A day on the slopes works up quite an appetite – one that can easily be satisfied by at visit to Bandits on Main Street in downtown Park City.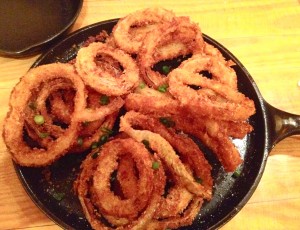 My dining companion ordered the huge appetizer portion their  pricey but addictingly good, crispy onion rings ($11.99) that washed down well with a draft of Bandits' Brew Amber Ale (16-ounce, $5; 25-ounce, $6.50).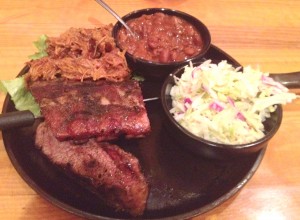 For dinner we shared a "Black & Bleu Kobe" that consisted of a American Kobe beef burger with cracked black pepper, crumbled bleu cheese, caramelized onions, lettuce and tomatoes, served with a choice of two sides ($ 18.99). We selected their vinegary coleslaw and french fries.
Then, we created our own combo ($25.99 with a choice of three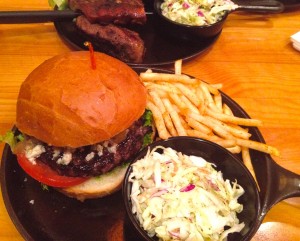 meats) selecting – baby back ribs seasoned with Bandits' rub then smoked, slow roasted and wood-grilled, USDA Choice Tri-Tip also slow roasted and wood-grilled; and pulled Pork tri tip, pulled pork, cole slaw and beans.
After a hearty meal like this, another day of skiing will be needed to work off the calories. Worth it though.
– bonnie
Bandits Grill & Bar
440 Main Street
Park City
435.649.7337
www.banditsbbq.com