Go Bananas' on the scenic grounds of the Port of Hueneme (105 East Port Hueneme Road) during the Banana Festival, Saturday, September 27, 2014 from 10 a.m. to 5 p.m.
The free festival provides a fun-filled day to learn about the journey of the banana and the interworking of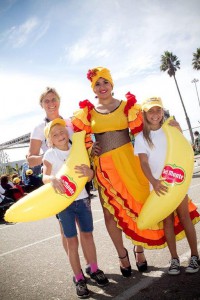 the Port. Festival highlights include delicious food and banana treats, live music, interactive displays, recipe contests, arts & crafts, kid's activities, port tours and more.
Vendors offer authentic tacos,  savory barbecue, Thai noodles, local brews and special banana treats including banana splits, banana smoothies and chocolate dipped bananas. Local bands will provide entertainment.
Get a glimpse into how the Port works by visiting the Port Pavilion highlighting history and the imports and exports that are transported globally. Other highlights include Waterside Port Tours, transporting visitors in and around the Port and the Naval Base.  Special kids activities include  banana crafts, inflatable fun, a climbing wall and more. And for shoppers,  local vendors offer outique clothing, hand-crafted jewelry, garden arts, hats, sunglasses, maritime treasurers and other  finds.
For more information, call 805-535-4060 or click here.
– Guest Contributor