When I received a colander full of Balducci's "Little Italy" goodies, I challenged myself to use most all in one dish.
The cherry-red colander included Mario Batali's tomato basil pasta sauce, Balducci's Alfredo sauce, Garfalo pastas, Balducci's balsamic vinegar, Balducci's olive oil and Grissini breadsticks. A gift basket Balducci's describes as everything needed for a feast evocative of the tastes and smells of the Tuscan countryside.
So what to cook? A pasta dish using both tomato and Alfredo sauces. I searched the web for some inspiration, created a recipe using everything but the balsamic vinegar, and then invited some friends to dinner.
Since I'm single, I try to do as much as possible ahead so I don't disappear for more than a couple minutes. For this dish, I cooked the pasta ahead according to package directions until al dente,  drained and put it aside.  About half an hour before my guests arrived, I began preparing the dish to the point where I cooked the spinach.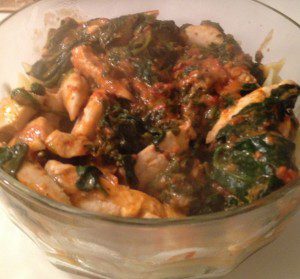 I had a pot of water on the burner simmering, so after cocktails  – when ready to serve dinner — I continued with the recipe, adding the marinara and Alfredo sauces to the pan.  I warmed the cooked pasta in the boiling water for about 30 seconds.
A one-dish meal, perfect for a cold winter's day, served with crusty bread.
Spicy Chicken and Pasta
Half a 1-pound package rigatoni/penne pasta
1 pound chicken tenders, sliced lengthwise
Red pepper flakes (use about 1 1/2 teaspoons)
Salt
A few grindings black pepper
2 tablespoons olive oil
6 whole cloves garlic, slightly crushed
1 pound bag baby spinach, rinsed and drained well
1 cup tomato basil pasta sauce
1/4 cup Alfredo sauce
Cook pasta according to package directions (see note above if you want to make it ahead.) While it's cooking, continue with recipe.
Rinse chicken tenders and pat dry with paper toweling; season with red pepper flakes, salt and black pepper to taste. ("To taste" means add how much you think you'd like to add, depending how salty or pepper you want something.)
Heat oil over low heat in a saute pan; add garlic and cook until the garlic begins to brown about 3 to 5 minutes. (The idea here is to infuse the oil with garlic; or — if you have a good one — just use a garlic-infused olive oil.) After the garlic browns, remove and discard (or, enjoy on sliced crusty bread). Add chicken; cook 1 to 2 minutes; remove and set aside. (Otherwise the chicken will overcook.) Add spinach to the pan; cook until it wilts, about 2 minutes. (If you didn't drain the spinach well and there is excess water in the pan, either cook to evaporate that, or remove and discard, as you don't want the water to thin your sauce.)
Add tomato and Alfredo sauces; bring to a simmer and let cook 5 minutes. Reduce heat to low, return chicken to pan and cook until chicken is cooked through, about 3 minutes. (If you want to check that the internal temperature is 165°, use a thermometer. If you made the pasta ahead drop the cooked pasta in boiling water for 30 seconds.)
Drain pasta; shake out excess water. Toss with the sauce in serving bowl and serve.
Makes 4 servings