I met some friends recently at Balade,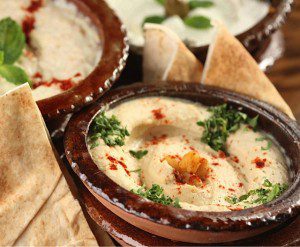 a Pitza and Grill in the East Village to sample theire authentic Lebanese cuisine.
As we perused the menu, we sipped on one of their specialty drinks of sparking wine and flavoring. Mine was Balade's Original, mixed with rose water ($10), tasting similar to a rose champagne. I also recommend the refreshing Beirut Moon, sparking wine mixed with pomegranate puree.
When you go, be sure to ask the waitstaff to explain the components of unfamiliar dishes, as they are incredibly helpful and informative.
Traditional of Middle Eastern cuisine, we started with a mezza. Ours included hummus (the typical chickpea puree, tahini and lemon juice, $6), baba ghanouj (a puree of eggplant, tahini, lemon juice and sumac – a tart spice, $6), grilled halloume cheese (hot  Cypriot cheese slices with tomato and cucumber, $8) and kebb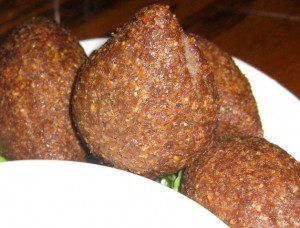 eh kras (shell-shaped fried beef and cracked wheat, filled with ground beef, onions and pine nuts, and served with a  homemade laban, Lebanese yogurt.)
Next, we had the Taste of Lebanon Manakeesh,  an assortment of three mini pizzas ($10): cheese, lahm baajin (ground beef with onions and tomatoes), and zaatar (a mixture of wild thyme, sesame seeds and sumac).
The Balade Mixed Grill rounded out our meal with beef kafta, shish kabob and a slightly overcooked grilled chicken tawook. For our accompaniment we opted for a fresh tomato, cucumber, pepper salad in lieu of the menu-stated french fries,  ($21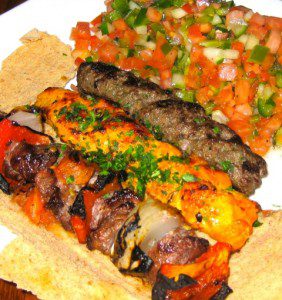 ).
I was pleasantly surprised by the  two quite refreshing Lebonese wines from the Bekaa Valley: Chateau Ksara Blanc De Blanc 09 (a blend of Sauvignon Blanc/Sémillon/Chardonnay),  and Chateau Kefraya La Dame Blanche 09 (a sweeter Trebbiano grape) — each $10/glass.
Although we were stuffed, we couldn't resist two of the classic desserts. Baklava ($4.50) in three styles, a birds nest, finger and burma; and, Mouhallabie ($5) a delicate creamy, yet light, milk pudding topped with pistachios, washing them down with a robust cup of Lebanese coffee ($2.50).
Head here for great service and fresh food (Balade, by the way, means fresh!), in a relaxed atmosphere — a meal that won't break the bank.
– bonnie
Follow @BonnieBOTB

Balade
208 1st Ave
New York, NY 10009
212- 529-6868
www.baladerestaurants.com