I chose the Bacon-Wilted Greens with Warm Pecan-Crusted Goat Cheese recipe from Virginia Willis's newest cookbook, "Lighten up y'all" to share, as I'm a sucker for any salad with warm goat cheese. I especially like that the nutty cheese is on a slice of apple in lieu of bread.
One salad serving is 255 calories, 16 grams fat, 4 grams fiber and 14 grams protein.
In the book, Virginia writes, "chèvre chaud, which translates to "hot goat cheese," is a traditional French dish that consists of a disk of fresh goat cheese melted on a br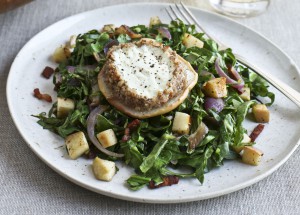 ead crouton and served with crisp sturdy greens, often frisée. I first came across the idea of using a slice of apple instead of bread at a little ferme d'auberge, an inn that doubles as a working farm, in Burgundy, France. I can't imagine a French bonne femme, or housewife, being out of baguette, so maybe she simply had a bit of lightened up inspiration, too.
The traditional French version has a pretty slim greens-to-cheese ratio and is also dressed in a shallot vinaigrette, so I've lightened it up by adding tons of kale, using slightly less cheese, and eliminating the baguette. The result is still a hearty, filling salad packed with flavor and protein and perfect for fall."
– bonnie
Bacon-Wilted Greens with Warm Pecan-Crusted Goat Cheese
2 center-cut bacon slices, cut into lardons
1/2 red onion, thinly sliced
1 apple, such as Gala, Granny Smith, or Honeycrisp, skin on, cored and diced
Coarse kosher salt and freshly ground black pepper
8 cups tender kale, stemmed and cut into chiffonade
1 tablespoon sherry vinegar
3 tablespoons very finely chopped pecans
1 (6-ounce) log goat cheese
1 small apple, such as Gala, Granny Smith, or Honeycrisp, skin on with core, cut crosswise into 1/4-inch-thick slices
Line a plate with paper towels. Line a rimmed baking sheet with a silicone mat and set aside.
Heat a large nonstick skillet over medium-high heat. Add the bacon and cook until crisp, about 5 minutes. Remove with a slotted spoon to the prepared plate. Pour off all but a film of the grease on the bottom of the pan. (Just eyeball it instead of trying to measure, but it should be just about 1⁄2 teaspoon; discard the remaining grease.)
To make the salad, return the skillet to low heat. Add the onion
and the diced apple. Season with salt and pepper. Add the kale; cook
until the kale begins to wilt, stirring occasionally, about 2 minutes. Add the vinegar; cover, and cook until just tender, stirring occasionally, about 4 minutes. Remove from the heat, taste, and adjust for seasoning with salt and pepper.
Meanwhile, preheat the oven to broil. Place the finely chopped pecans in a shallow dish and season with salt and pepper. Roll the goat cheese log in the pecans to evenly coat. Refrigerate until firm if necessary, then cut evenly into 6 rounds and place each round of cheese on the sliced apple. Place on the prepared baking sheet. Transfer to the oven and broil until the cheese is melted and browned, 3 to 5 minutes.
To serve, divide the kale salad among the plates. Top with an apple-cheese round and garnish with the reserved bacon. Serve immediately.
Makes 5 1/2 cups to serve 6