Dana Jacobi, in her new cookbook (on sale April 12) "Power of Greens" calls for tongol tuna in this salad recipe; the type — she mentions —  lowest in mercury.  It, like all tuna is a good source of omega-3 fatty acids.
You can substitute any canned tuna for use in this simple to prepare salad.
– bonnie
The head-clearing kick of wasabi is a fun surprise in this chunky tuna salad. Wasabi, of course, goes well with tuna but it is good with the tomatoes and kale, too. Use any kind of baby kale — green, red, or mixed — will work.
Baby Kale and Tuna Composed Salad with Grape Tomatoes, Sweet Onion, and Wasabi Dressing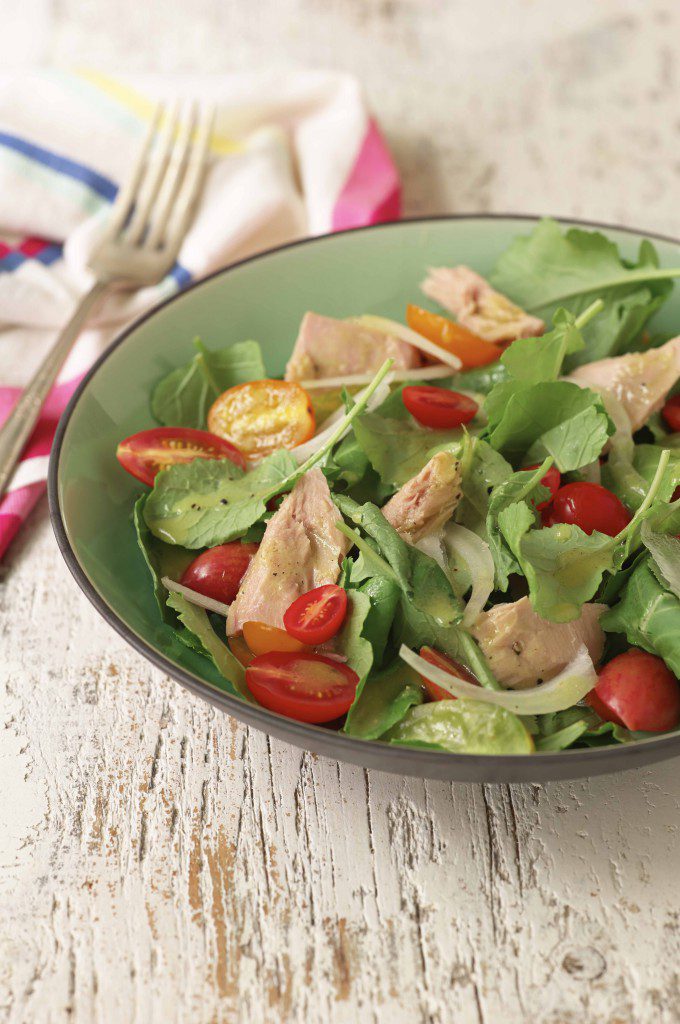 1 teaspoon wasabi paste or powder
1 tablespoon fresh lemon juice
3/4 teaspoon salt
Freshly ground pepper
1 tablespoon fruity extra virgin olive oil
4 packed cups baby kale leaves
1 cup grape tomatoes, halved lengthwise
1/2 cup sweet onion, in thin crescents
1 can water-packed tongol tuna, drained
In a small bowl, whisk the wasabi with the lemon juice. If using wasabi powder, also mix in 1 teaspoon water, and set aside for 10 minutes to let the heat develop. Mix in the salt, and 4 or 5 grinds of pepper, then whisk in the oil. Set the dressing aside for the flavors to meld while you make the salad.
Arrange the kale to cover a small platter. Sprinkle the tomatoes and onions over the greens. Add the tuna, breaking it into chunks. Just before serving, pour the dressing over the salad and toss to combine.
Makes 2 servings