I met food blogger "Mimi Avocado" at Camp Blogaway earlier this summer. She offered to share this recipe with us.
"I often just substitute avocado for the mayonnaise to save on calories, but we all know that mayonnaise makes everything GOOD!" wrote Mimi.
For another version of deviled eggs, she suggests filling them with guacamole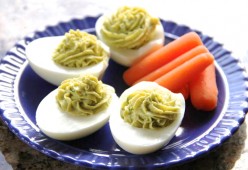 .
Avocado Deviled Eggs
4 hard cooked eggs
Half a large California avocado
1 T mayonnaise
2 t  spicy brown mustard
1/8 t  cayenne pepper (optional)
Salt and pepper to taste
Paprika for garnish (optional)
Cut boiled eggs in half lengthwise and carefully scoop out yolks. Mash yolks with a fork. Mash the avocado and add it to the mashed yolks. Add mayonnaise, mustard, cayenne pepper, salt and pepper.
Fill egg whites with avocado mixture and serve.
Makes 8 servings.
– bonnie