This simple flavorful twist on a Greek classic is from this week's Guest Foodie — Dana Jacobi 's soon to be published book, The Power Greens Cookbook containing 140 dark, leafy greens recipes.
– bonnie
BonnieBOTB
Follow @BonnieBOTB  
How does lemon-sparked chicken and rice soup fit into a cookbook on leafy greens? By adding arugula. The combination is so perfect that I wish I had thought of it sooner. To save time, you can start with step 3, using store-bought chicken broth and cooked chicken breast. The result tastes milder but delivers all the comfort that makes this creamy soup a Greek classic.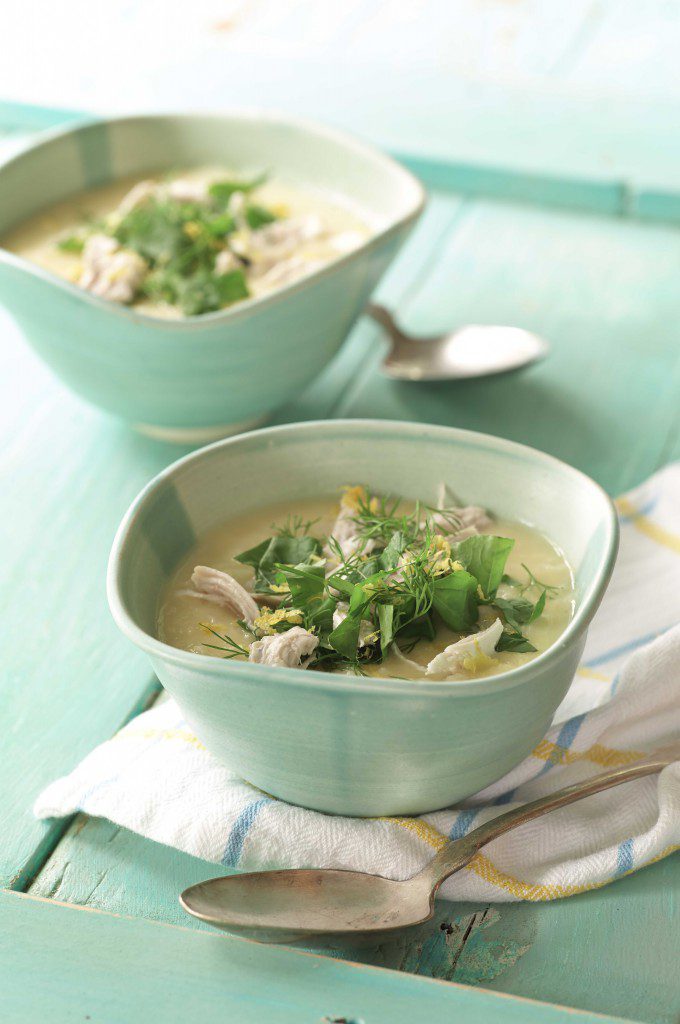 Avgolemono Soup with Arugula
6-ounce skinless and boneless chicken breast
4 cups fat-free, reduced sodium chicken broth
1/2 cup long-grain white rice
1/2 cup chopped arugula
1/3 cup chopped fresh dill
1 large egg, at room temperature
1/4 cup fresh lemon juice
1 teaspoon grated lemon zest, optional, for garnish
In a large saucepan, gently simmer the chicken breast in the broth until the chicken is white in the center at its thickest point when tested with a knife, 15 to 20 minutes. When the chicken is cool enough to handle, shred it into bite-size pieces. Reserve one cup and set the rest of the chicken aside for another use.
Line a strainer with cheesecloth or a large coffee filter and set the strainer over a bowl. Strain the broth through the filter into the bowl, tilting to help the broth drain; there should be 1 3/4 cups liquid. Discard the filter and rinse out the pot.
Return the strained broth to the pot, or if using prepared chicken, add the 4 cups of broth, the rice, arugula, and half the dill. Bring the broth to a boil, then simmer, covered, until the rice is soft, 15 minutes.
Meanwhile,  in a medium bowl, beat the egg, then whisk in the lemon juice and 2 tablespoons water. Ladle 1 cup of the soup into a measuring cup. Slowly add the hot soup into the egg mixture, whisking constantly .
When the rice is tender, off the heat, pour 1 cup of the hot soup into a measuring cup. Slowly pour this hot soup into the egg-lemon mixture, whisking constantly.Then return this egg mixture to the saucepan. Season to taste with salt and pepper.
To serve, divide the hot soup among 4 soup bowls. Add the shredded chicken and some of the remaining dill to the center of each bowl. Sprinkle with the lemon zest, if using.
This soup keeps for 3 days tightly covered in the refrigerator. Reheat it gently, uncovered, over medium heat.
Makes 4 servings