It's been a long time since I was blown away by a flavor combination of a dish. The combination of ingredients at Atoboy, a Korean restaurant in NoMad, did so almost from start to finish. Yes, that good.
Junghyun Park, Atoboy's chef, is the former Chef de Cuisine of Jungsik, a two Michelin starred NYC Korean restaurant. His wife Ellia Park, is the manager. This is an adventurous restaurant, serving unusual Korean-inspired shareable dishes.
Atoboy has only a wine and beer license, so cocktails are made with Soju, a clear, colorless distilled Korean beverage. I was thoroughly surprised — and pleased — by their slightly spicy Jalapeño Rosso, with ginger puree and grapefruit juice in a glass with a smidgen of grated lime and salt on part of the rim.
You pay $46 for three sharable dishes served family style, one from each section of the menu, plus white rice and bowls of the kimchi of the day. The unusual two of the day were green tomatoes and eggplant. Our delectable seasonal rice (a $2 upcharge) came mixed with seaweed paste.
We nibbled the complimentary crispy seaweed while we looked over the wine list. We chose a bottle of the Keller, Trocken, Riesling from the Rheingau, 2017 ($60) that worked so well with all the dishes.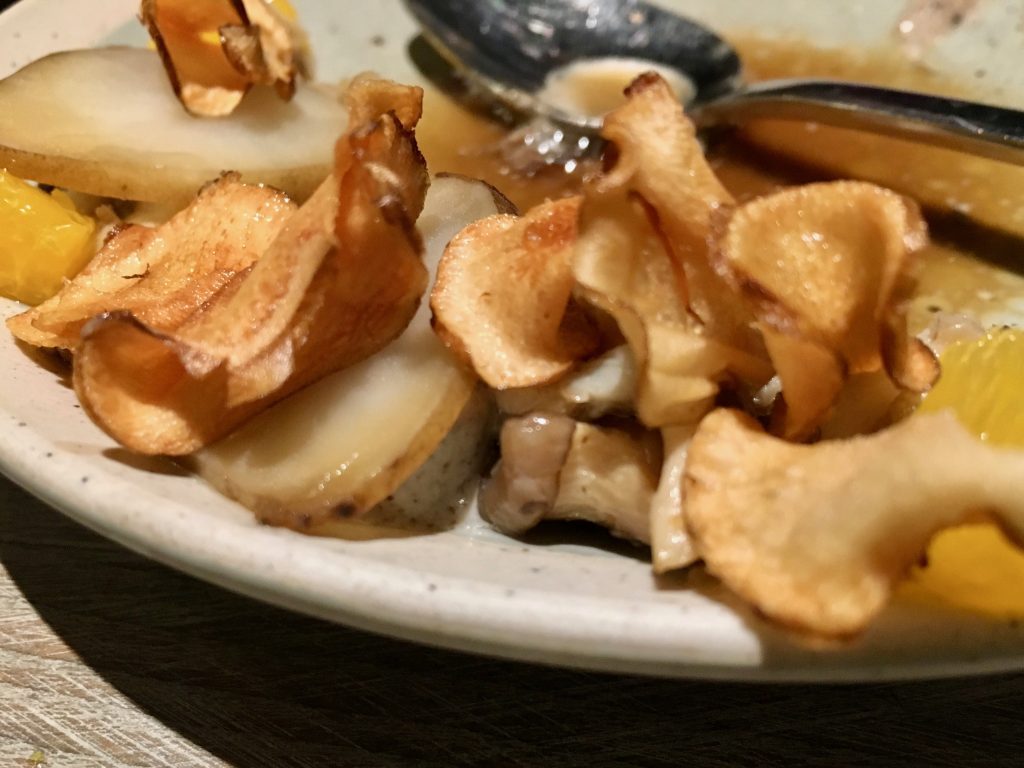 I never would have imagined the enticing burst of orange flavor from the radicchio, burrata, candied pecans and olive salad. I'd go back for that dish anytime. Also amazing are the shaved snap peas over noodles sprinkled with mustard flowers.
I highly recommend the crispy fried and softly braised sunchokes with oyster mushrooms and oranges in a truffle emulsion. The only dish that didn't please was the bland shrimp mousse wrapped in endive. I think perhaps they forgot to add the menu-stated jalapeños. The waiter happily replaced that with crab with diced pencil-thin asparagus.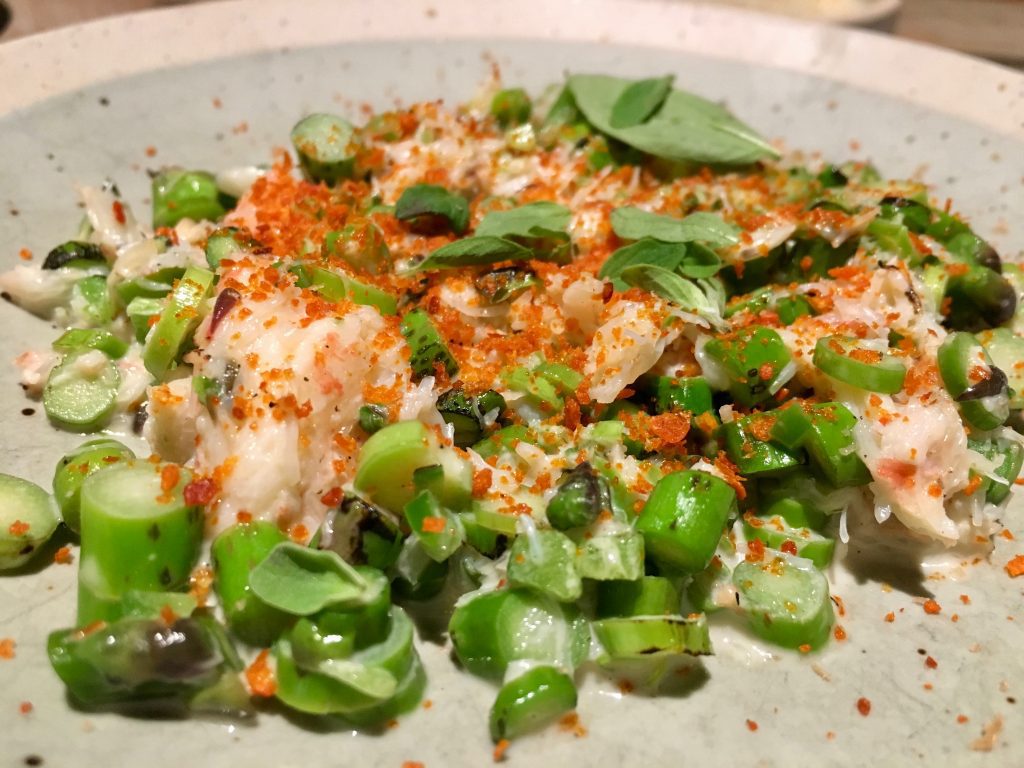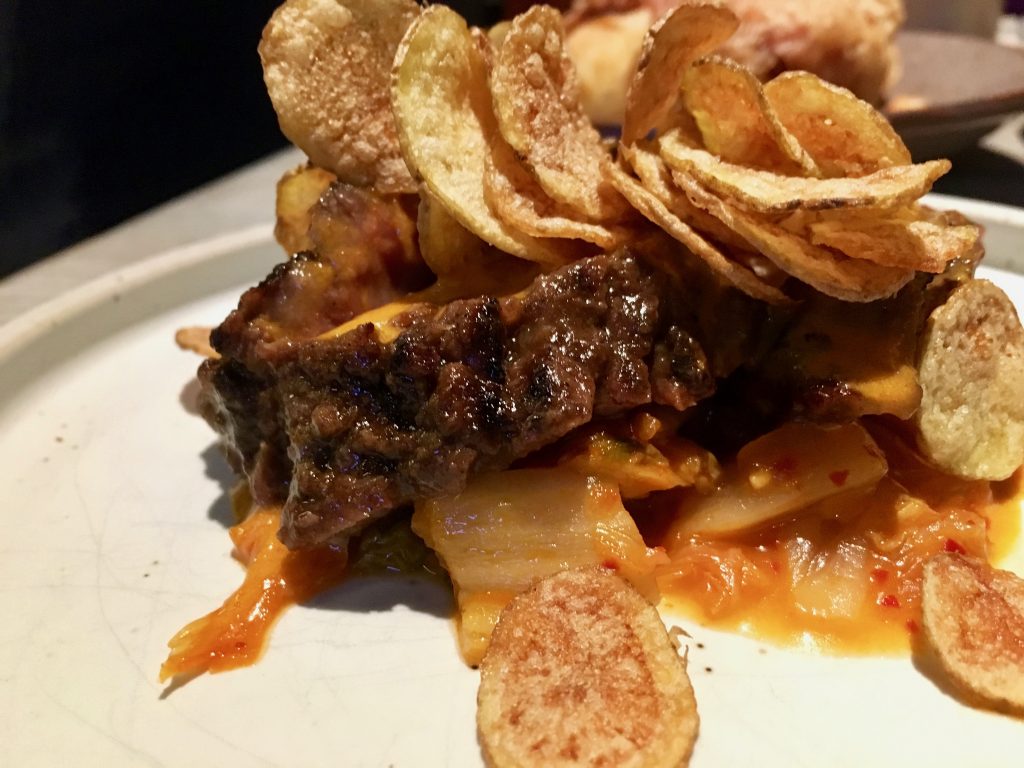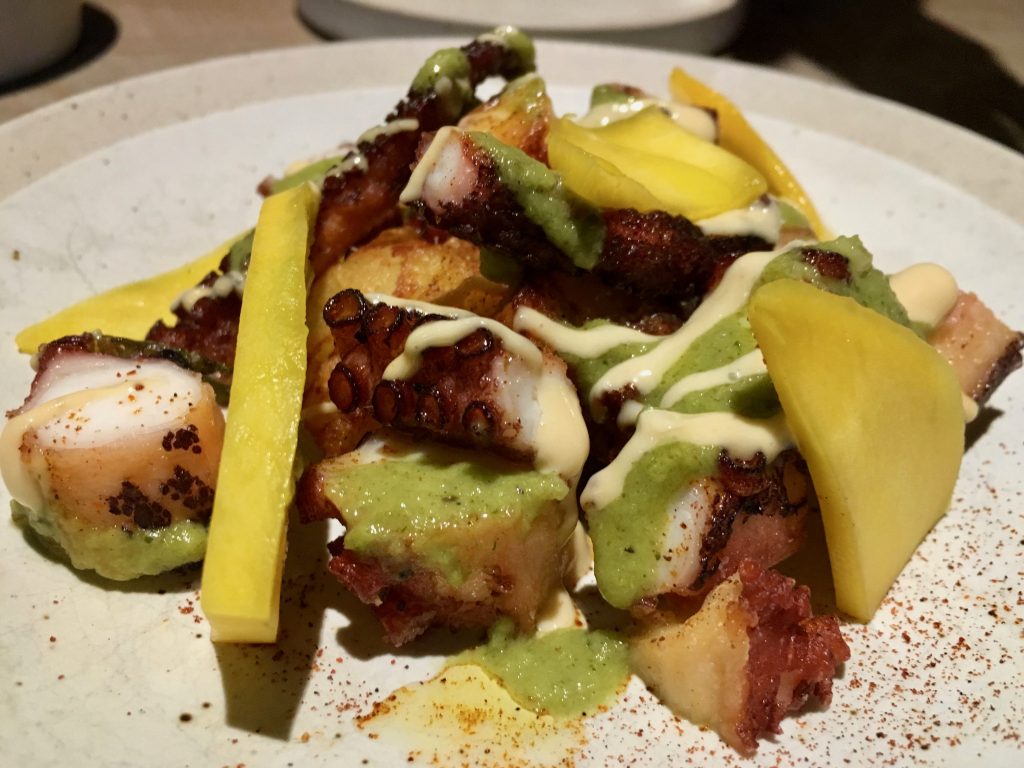 The octopus comes with mango; the beef galbi with anchovy, kimchi and potatoes. We also added the spicy chicken (+$23) with two spicy sauces, a peanut and gochujang sauce. Good, but that was too much food for us to finish.
One dessert contained four small layered strawberry cheesecake pieces in a strawberry puddle topped with strawberry crumble and nasturtium ($10) adorned with a birthday candle for me. As a birthday offering, Atoboy also sent out their sujeonggwa — the sweet cinnamon punch — frozen into granita spooned over burrata, lychee yogurt and candied walnuts.
I highly recommend a special trip to Atoboy. I suggest going with three friends so you can sample more of this amazing menu.
Atoboy
NoMad
43 E 28th Street
New York City, NY 10016
(646) 476-7217