Alta had been on my radar for quite some time. My friend and I decided to head to this modern neighborhood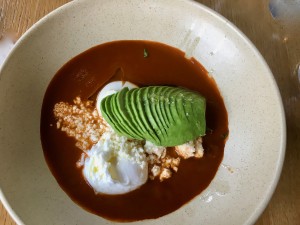 Mexican restaurant from chef Enrique Olvera (Cosme) for brunch one Sunday recently. They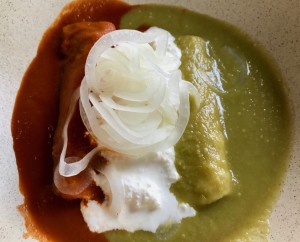 have an all-day menu served breakfast daily until 4 pm.
I chose the breakfast ranchero eggs ($13) a dish that's usually a hearty breakfast dish. Alta's version is quite deliciously light with two poached eggs and a smidgen of beans on a tortilla covered in a slightly piquant ranchero sauce, not smothered in cheese! I added a side of avocado ($4).
My friend ordered the fresh onion topped chicken enchiladas ($16) from the all day section, asking for both the green and red sauce.  Quite tasty too and light too, for Mexican food.
I'd recommend a visit.
– bonnie
BonnieBOTB
Follow @BonnieBOTB

Atla
NoHo
372 Lafayette St
New York, NY 10012
(646) 837-6464