At a recent dinner party, my friend Sharon's crispy potatoes had everyone talking. They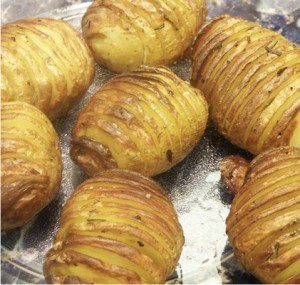 were thinly cut potatoes, left whole so they fanned out on baking resulting in crunchy slices. Which is what everyone liked a potato to be.
I decided to try to replicate them recently when I was in Atlanta preparing — with Bryan — our Thanksgiving feast. I carefully sliced each potatoes at close intervals, trying not to cut through the bottom; sprinkled them with olive oil, freshly ground pepper, kosher salt and crushed rosemary and baked until crispy. I served the potatoes on a bed of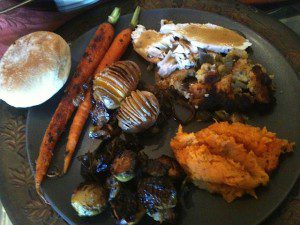 caramelized onions and garlic.
They were a huge hit! Holiday dinner guest Penny Butler quickly nicknamed them armadillos as they resembled that mammal's bony plate. The name stuck.
After T-day, I contacted Sharon as I wanted to properly attribute the recipe she and Dennis had followed. It was Ina Garten's rosemary roasted potatoes. The best tip I learned from Ina's recipe was how keep from slicing through the potato: Place the potato on a large spoon so the edges of the spoon prevent you from doing so.
Here's a blend of her recipe and mine that makes three to four servings. It's for sure a crowd pleaser.
Optional variation: Just before removing the potatoes from the oven, add a soupçon of goat cheese to the top of each and broil about 1 minute until puffy and golden.
Armadillo Rosemary Roasted Potatoes
1 1/2 pounds baby Yukon Gold potatoes
2 tablespoons olive oil
1 tablespoon finely chopped fresh rosemary (or 1 1/2 teaspoons of crushed dried rosemary)
2 teaspoons kosher salt
1 teaspoons freshly ground black pepper
Preheat oven to 425 degrees F. Slice the bottom off each potato and cut crosswise at 1/8-inch intervals, cutting to within 1/4 inch of the bottom.
Toss the potatoes with olive oil, half the rosemary, the garlic, salt and pepper in a large bowl. Arrange the potatoes on a sheet pan, sliced side up.
Bake the potatoes for 30 to 45 minutes, until they are tender and golden and crisp. Sprinkle with the remaining rosemary plus additional salt and pepper to taste.
– bonnie
Follow @BonnieBOTB