A meal at Arcane, a French-Caribbean restaurant, is affordable even in tight times.
Begin with one the unusual and tasty cocktails that includes a moulin rouge (orange vodka, triple sec, fresh lime juice and raspberry puree, $9),  t-punch (a Caribbean "caipirinha" with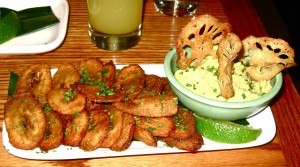 white rum, lime wedges and brown sugar, $7) or a key lime (orange vodka peach schnapps and fresh lime juice, $8).
Interesting appetizers include  accras de morue (crispy codfish fritters, $5) and fried plantain with  feroce d avocat (Bacalao — dried salt cod — guacomole, $8).
The large tender grilled tiger shrimp ($17) skewed with pineapple comes with  haricot vert; the also tender grilled calamari with a salad ($9).  Either is a good choice.
– bonnie
Arcane
111 Avenue C (between 7th and 8th Street)
New York, NY 10009
212-777-0477