"Why Hoboken?" I was asked, when I told friends I was heading to brunch there.
I had purchased an ornament from the "giving" tree at the Les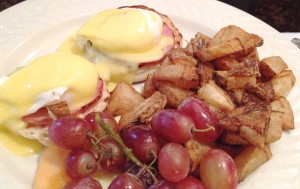 Dames d'Escoffier New York (LDNY) holiday party to raise money for our scholarships, and I received a gift certificate to Amanda's in Hoboken.  Les Dames d'Escoffier is an international organization of leading women in the food, fine beverage and hospitality industries, whose mission is education, advocacy and philanthropy. Each year LDNY awards scholarships to women enrolled in culinary schools in the New York area.

A friend who lives in NJ said she'd meet me for brunch at the elegantly restored brownstone on Washington Street, about a mile from the PATH stop. We started with an Amanda mimosa made with Cava and freshly squeezed orange juice ($7).
My friend had the rich flavorful l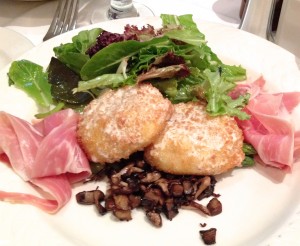 obster bisque ($6) that could have been a meal in itself but was lacking any chunks of lobster.
The classic Benedict ($11) was traditional, including poached eggs on an English muffin topped with Hollandaise sauce. This version was accompanied by breakfast potatoes (albeit not hot!) and grapes.
What was quite unusual and tasty — and the dish I'd recommend — are the crispy eggs (poached first, dipped in panko bread crumbs, fried and then topped with Parmesan) over fresh asparagus, along with a green salad and chopped and sauteed shiitake mushrooms ($13).
If you're in Hoboken, do try Amanada's.
– bonnie