Had to laugh that I learned about Almayass, a Lebanese-Armenian restaurant in the heart of the Gramercy-Flatiron area AKA my hood, from my sister who only lives in the big apple a short time each year. She discovered it when looking for a place for my brother-in-law's big birthday that offered a meze. We went together for a tasting.
Everything was so delicious that we had difficulty narrowing the menu for the party. I went back to have lunch one afternoon after visiting the birthplace of Teddy Roosevelt, a National Historic Site literally around the corner on 20th t0 write about it.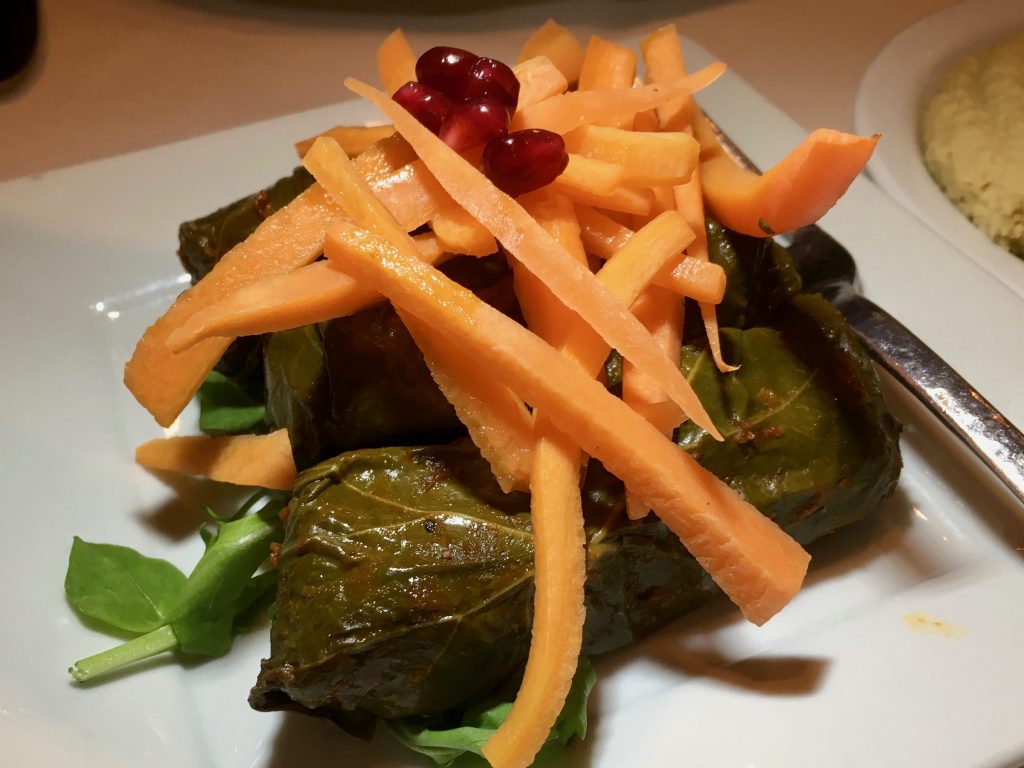 The restaurant has an inviting atmosphere with super friendly service. Almaylass's lunch special was too good to pass up as it offered a choice of two meze items plus one entree ($27 from 12 to 3). Three of us we decided to share it all, beginning with all their starters but the soups. That included the Armenian salad of chopped Campari tomatoes, yellow pepper, Persian cucumber and onion; their tabbouleh made with wheat, chopped parsley, onions and, again, Campari tomatoes; the fattoush with those Campari tomato, Persian cucumbers, radishes, sumac, parsley, fried pita pieces and fresh mint; hummus; strained minted yogurt (labneh); and my favorite, moutabbal, the mashed roasted eggplant with lemon, garlic and tahini, theirs garnished with pomegranate arils.
For entrees, we shared the free-range chicken and rice served with a garlicky whip, a fillet of branzini with a red sesame sauce, some fresh veggies and rice and (our least favorite) the mantee, oven-baked boat-shaped dough with seasoned meat with more garlicky labneh.
Do go – and when you do, ask for Mario, the hospitable owner. Tell him Bonnie sent you!
Almayass
Gramercy-Flatiron
24 E 21st St
New York, NY 10010
(212) 473-3100