I met friends recently for coffee at one of the Upper East Side location of Alice's Tea Cup. (One other is at 81st street, a third on the Upper West Side.)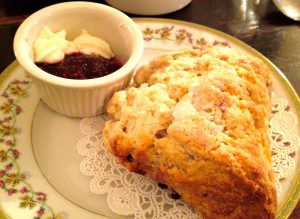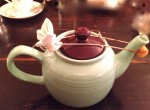 The waitress mentioned that Alice's is known for its tea and scones. So when in Rome…. One of had the tea, served in an adorable tea pot, and we all sampled — and shared — the scones: a rich peanut butter chocolate chip, a blackberry chocolate and a ham and cheese. I'd recommend all but the latter as it was dry. One scone along with homemade raspberry preserves and clotted is $3.50, or a small pot of tea with two scones for $12.
They serve other foods, too and do take reservation – important to know as I  hear the lines on weekends are very long!
– bonnie
Follow @BonnieBOTB

Alice's Tea Cup Chapter II
156 E 64th St
New York, NY 10021
(212) 486-9200
alicesteacup.com