Alice's Arbor, a farm-to-table concept, invited me to dine in their wood-paneled spacious dining room in the Clinton Hill section of Brooklyn.
General manager Haroun Khalek started our adventure with a delightfully light and well-balanced cocktail. Alice's French 75 is made with St. Germain, fresh lemon juice, splashes of both Tito's and simple syrup, then topped with Prosecco ($12).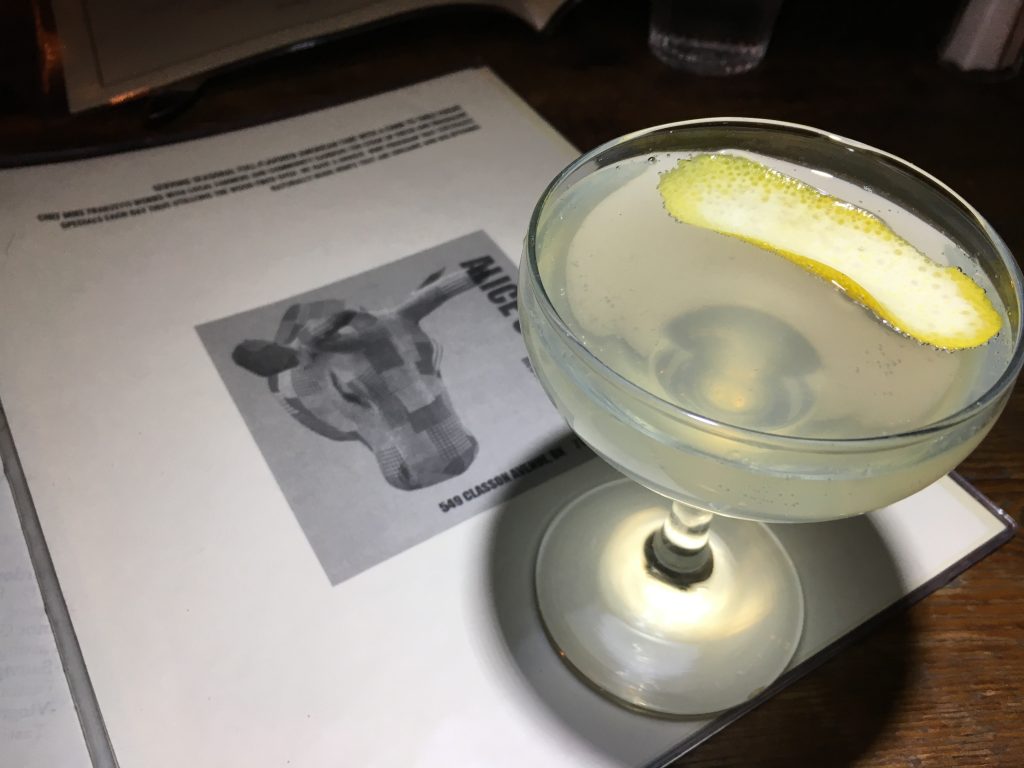 We switched to wine to accompany the appetizers, having a glass of both Clovis Côtes du Rhône, an organic Grenache, Rhone Valley 2016 ($16/glass)  and the Carignan/Grenache, Domaine Des Vignes Rouges "Clémence" IGP Cévennes, France 2016 ($11) as we couldn't decide between them.
Flavorful appetizers included a pan-seared Atlantic salmon cake with creamy mustard sauce ($12),  a special, a pan-seared crab cake seasoned served with a curry yogurt sauce ($12 for two) and — my favorite— the ratatouille made from thinly sliced eggplant, red bell pepper and green & golden zucchini fanned out in a terra cotta dish all in a Moroccan spiced tomato sauce ($9) finished in the wood-fired oven. Highly recommend the latter.
We also tried their tasty of "Pickles & Fries." An odd combo of housemade pickled cucumber, string beans and carrots served with cowboy fries seasoned with a sweet-smoky seasoning blend ($10). Don't miss this either. My favorite pickle was the green beans made spicy with habañero and ghost peppers.)
I recommend the tender crisp-skinned Sullivan Country Farms trout fillet in a brown butter sauce with lemon and capers and topped with almonds —  one of Alice's Arbor customer staples — plated over roasted fingerling potatoes and crisp haricot vert ($22). Also good are the organic wood-fired roasted chicken seasoned with a hint of all-spice served with mashed potatoes and gravy ($22) and the rack of ribs.
Baked after being rubbed with Carolina style blend with different types mustard,  then finished in the wood-burning oven resulting in tender meat falling off the bones! ($20 served with a potato salad). With that we tried the wood-oven cauliflower ($8) and Brussels sprouts; the former came with lemon and capers, the irresitible latter cooked with maple syrup and bacon ($8)
We asked for a thin sliver of Chef Mike Franzetti's grandmother's cheesecake in a graham cracker crust ($8), drizzled with raspberry coulis as we were so full, we planned to only take a bite. Not. We demolished the entire slice. The chocolate hazelnut torte in a crisp chocolate shell is also good ($10).
When you go to this gem, I suggest finishing with the tasty digestive Amaro Montenegro ($9), as we did, along with an espresso ($2.50 single; $4 double).
Alice's Arbor
Clinton Hill
549 Classon Avenue
New York, NY 11238
(718) 399-3003