Alfredo of Rome in Rockefeller Center, New York, is the American counterpart of this renowned restaurant and is so steeped in classic Italian tradition that you feel as if you are in Rome.
As the restaurant's guest, I was seated at the corner table where David Rockefeller sat, giving me a view of the main dining area and the Al Hirschfeld caricatures adorning the walls. Owner Russell Bellanca — Italian-raised restaurateur who lives in Manhattan but whose heart is in Italy — sat down with us to share tales about the restaurant and its food.
His crackerjack service team — mostly from Italy — started by bringing us some bread with  a black olive tapanade and a roasted red pepper-sun dried tomato dip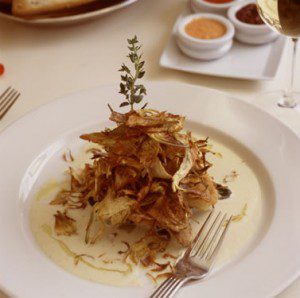 and continued bringing more and more things to sample.
Do not miss the amazing Carciofi alla Giudia ($16) – that's artichokes prepared using an ancient Roman recipe, fried in olive oil with a splash of vinegar as done in the old Roman Jewish ghetto. The fried artichokes are served with radicchio salad.
Additional appetizers included Italian Sushi Calamari ($14), fried calamari filled with an avocado puree and topped with fresh lobster and Tonno ($9) — skewered raw tuna and avocado chunks garnished with bottarga (dried pressed roe). The latter lighter app is tasty, although a bit out of the norm of classic Italian cuisine.
What is classic is their very thin Roman pizza ($21) topped with gorgonzola, mozzarella and paper-thin pear slices, all drizzled with white truffle oil (described in our review of Trattoria Cinque also owned by Russell). Unusually delicious.
As the main event was about to be served, the waiter placed gold utensils in front of me (only women get the gold!). Russell explained that this gesture is in memory of the solid gold fork and spoon that Douglas Fairbanks Jr. and Mary Pickford (the Brad Pit and Angelia Jolie of their time) presented to owner Alfredo di Lello after eating at the original Alfredo's restaurant many times during their 2-week honeymoon in Rome.
The main event, as you might have guessed, is the simple dish Alfredo di Lello created almost 100 years ago in 1914. Fettuccine Alfredo ($28). Good, simple Italian food as it was meant to be: noodles made from three flours, tossed with high butterfat unsalted butter and grated young Parmigiano Reggiano (young because it melts well). Don't dawdle when it's served…just dive in and enjoy… as if this dish sits, it could get gloppy!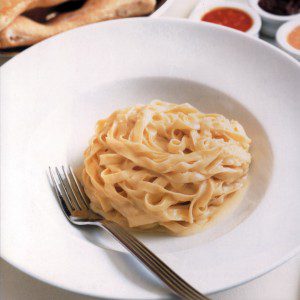 Russell also ordered housemade tagliolini pomodoro as he didn't want us to miss the simple, wonderful pasta topped with a fresh tomato and basil sauce. Simply divine.
We followed all this with Risotto Ai Frutti Di Mare ($32), rice cook al dente, the Italian way, topped with shrimp, clams, mussels, calamari and scallops. And, a perfectly grilled Dover sole with white wine sauce, asparagus and a rich layered potatoes gratin with a crisp crust. (Potatoes so good that I could have eaten an entire order!)
When you go (and I certainly recommend you do), be sure to save some room for their decadent desserts ($8 each). These include Doppia Torta Al Cioccolato double chocolate cake, Budino Di Panettone Con Salsa Alle Fragole panettone bread pudding with strawberry sauce, housemade white chocolate Tiramisu homemade with mascarpone and savoiardi (Italian thick lady fingers), profiteroles homemade pastry puffs, filled with custard cream and smothered with warm hazelnut chocolate sauce and an ethereal chocolate mousse.
Do stop by for that real taste of Italy!
– bonnie
Alfredo of Rome
4 W 49th St
New York, NY 10020
(212) 397-0100