After dining at restaurants where I couldn't hear my dining companion, I welcomed a much quieter experience. Ai Fiori offers just that. It's adult dining at a restaurant celebrating the cuisine from both the Italian and French Riviera. The elegant food offerings are meticulously prepared and presented by knowledgeable staff in a tranquil beautiful setting. Service is impeccable.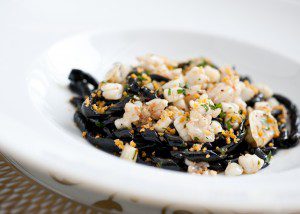 When you go, don't look for 400 Fifth Avenue between 36 and 37; instead enter the glass doors at 398 and head up the circular stairs. (NOTE: since this post, they changed the number above the glass doors to 400!) I had been earlier this year at a "Bourgogne Takes New York" wine crawl where I sampled three Côte Chalonnaise wines along with tastings so memorable I decided to repeat them. Yes, chef Michael White's creations are that good.
We sampled a Sicilian medium bodied, slight fruity wine from Etna Rosso "a Rina" Girolamo Russo, 2010, ($70). The wine had a hint of smokiness, as its grapes were grown in volcanic soil on the south east slope of Mount Etna, one of the most active volcanoes in the world. (This was all explained to use in great detail by the amazing captain, Michelangelo.) I highly recommend the wine as it paired brilliantly with our selections – and was one of the more affordable wines offered.
But first we delighted in the chef's amuse of roasted tomato gazpacho flavored with fennel pollen, served with a crisp olive oil crostini.
To start, we savored Insalata di Pomodoro, a salad of heirloom tomatoes, fresh burrata, pickled watermelon and toasted pumpkin ($19).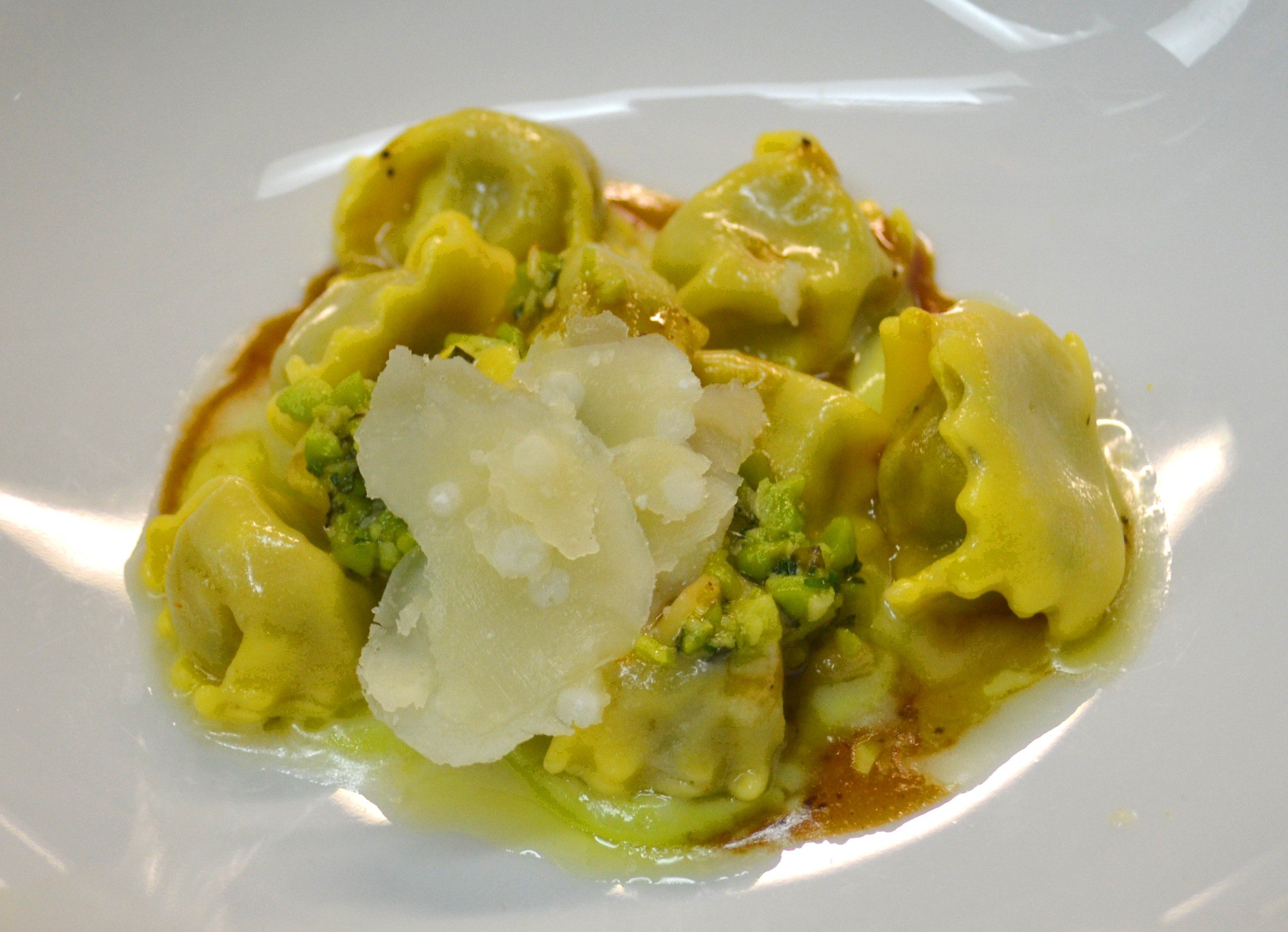 We followed that with the unusually delicious Cannolicchi, a seafood salad with a mélange of flavors and textures. That's charred razor clams, spicy Spanish chorizo and pickled fennel all in a manila clam vinaigrette dotted with a Pernod-spiked fennel crema and chorizo oil ($24).
Don't miss the classic Trofie Nero, from the Cinque Terre region of Italy. That dish's long cork-screw spirals are made to order each day from squid ink and gently smoked superfine semolina. The very fresh pasta is quickly cooked, tossed with a crustacean ragu of diced cuttlefish, shrimp, calamari and scallops sautéed in white wine and olive oil, and sprinkled with spiced mollica di pane, bread crumbs toasted in lobster butter (available in two sizes $24/$36).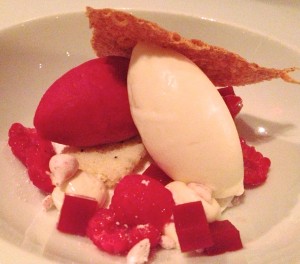 Also not to be missed are the tender agnolotti from the Piedmont region of Italy. These pasta parcels are filled with braised veal, escarole, parmesan and truffles and served with gold bar squash, toasted sunflower seeds and a saffron truffle-infused veal sugo (sauce), garnished with sunflower seed sprouts (available in two sizes $24/$36).
For a perfect ending to our spectacular meal, we sampled Ai Fiori's vacherin — a refreshing crunchy play on the classic Parisian meringue served with cream sorbet. The dessert consisted of toasted sesame meringue with a honey sabayon, white toasted sesame gelato, raspberry sorbet, fresh raspberries ($13). Simply divine…as were the offered candies and wrapped biscotti to take home.
Ai Fiori received three stars from the New York Times, one Michelin star and a must try recommendations from me.
– bonnie
Follow @BonnieBOTB
Ai Fiori
400 5th Avenue 2nd Level
Langham Place Fifth Avenue
New York, NY 10018
212.613.8660