Earlier this autumn, Ai Fiori launched their weekend brunch and invited me to sample it.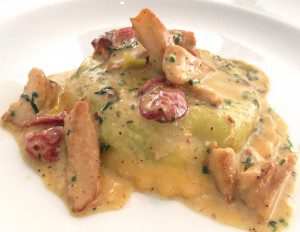 They serve from  11 a.m. to 2:30 p.m. and have live jazz, soft enough — as you'd expect from a restaurant of this caliber — to enjoy your conversation while lingering over your beverage or coffee. I really like that.
When I originally read the menu on their website, I presumed, they offered a two-course brunch for $65. Not.  They do hand you a menu but have a small elegant buffet set up with appetizers (including smoked salmon, whitefish salad, charcuterie, cheeses, fresh baked breads, flaky buttery croissants, etc.) and desserts (miniature bittersweet chocolate tarts,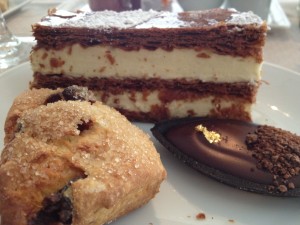 sliced fresh fruit tarts, olive oil cake glazed with lemon zest). That's  self-serve part, you also select your main course from the menu.
I fell in love with Ai Fiori on my first visit, after enjoying the food at brunch I realized that the knowledgeable captain Michelangelo made our night. Not so at brunch. Our server  — who we, and the table next to us, nicknamed Mr. Personality — was the complete opposite. We had to ask to get any information about the brunch, he wasn't forthcoming.
After sipping our mimosas, we self-served many of the delectable buffet selections before our entrees arrived. Knowing that all pastas are made fresh, we opted to split two from the printed menu and weren't disappointed. The sauce for the Rigatoni ala Carbonara came from the chef tossing eggs, guanciale, scallions, pecorino romano cheese and lots of black pepper with the warm rigatoni. Our second entree included an egg yolk filled pasta — Raviolo di Uova — topped with chanterelles, basil and tomato confit. Both rich, delectable and recommendable.
The jazz trio and the warm ambiance of the natural midday light makes this an inviting place to spend a leisurely weekend brunch.
– bonnie
Follow @BonnieBOTB
Ai Fiori
400 5th Avenue 2nd Level
Langham Place Fifth Avenue
New York, NY 10018
212.613.8660