It had been more than a decade since I was at Adriana's in New Haven. And I was pleasantly surprised by the attentive accommodating service. One of my dining partner was in the mood for veal piccata that was not on the menu.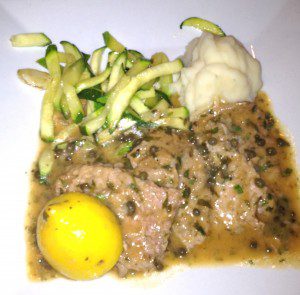 "Absolutely," responded the waiter that the kitchen would make it.
We sipped the Don Miguel Gascon Malbec, Mendoza, Argentina ($38) while waiting for our starters. The Crisp Caesar salad ($5.95) came plentifully topped with thin slices of Parmesan cheese.
The evening's special of John Dory, (sea bass) was lightly breaded and baked with fresh lemon and white wine. Delicate, delicious ($26.95) and served with fresh garlicky spinach.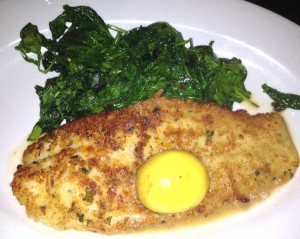 One friend tried the marinated beef filet – it  was cooked perfectly rare, as requested, and accompanied by mashed potatoes and julienned sauteed zucchini  ($25.95). The specially requested veal came with those same sides ($19.95).
We sat and chatted, thoroughly enjoying the evening, when the lights in the dining area where we were seated were turned on to obviously let us know that it was time for us to leave. Rude, as it was a Friday night 10 pm and the other dining areas and their bar still had customers.
A spoiler of an otherwise delightful evening.
– bonnie
Adriana's
771 Grand Avenue
New Haven, CT 06511
(203) 865-6474