I heard raves about chef Mads Refslund's menu at Acme,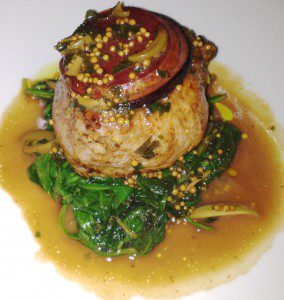 but until recently hadn't had the opportunity to try it.  The chef — who co-founded restaurant Noma and hails from Copenhagen — prefers local, seasonal ingredients, innovative cooking techniques and earthy flavors.
What I wasn't told about was the noise level (almost too loud to carry on a conversation ) and the service (our waiter overflowed with attitude!). That said, most all the food made it well worth the visit.
A must are the padrón peppers filled with parsley and thyme flavored pork sausage ($14) and the
earthy whole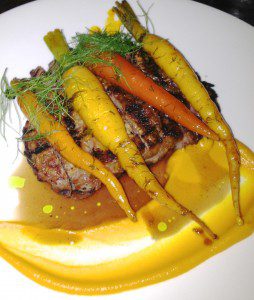 grains combined with chunks of lobster, sweet corn and wild mushrooms ($22). I don't recommend the grilled and paper-thin sliced peaches a top salt-baked celery root and thinly sliced lardo ($14), as it screamed for seasoning.
Our entrees included — a slighted over-baked but nicely seasoned with cardamom and vanilla — striped bass over pickled green tomatoes ($26); a deliciously tender, perfectly cooked, huge chunk of Berkshire pork served with fresh spinach and flavored with plums, mustard seeds and thyme ($27); and an
also perfectly cooked rib-eye topped with multi-colored whole fresh glazed carrots and served with crispy  fries ($34).
We sampled the weirdest dessert — warm soupy beer and bread porridge with (melted) salted caramel ice cream ($10). Save calories, skip dessert.
Acme
9 Great Jones
New York, NY 10012
212-420-1934
acmenyc.com