I'm just back from my second trip to Peru, with visits to Lima, Cusco, Machu Picchu and more… My first trip in the 70s was not on a tour; this time I joined one as a friend really wanted to go. I realized Overseas Adventure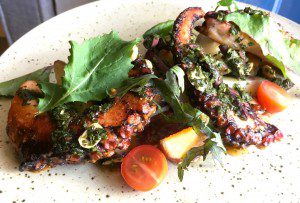 Travel (OAT) trips are not for me; the food served on the two trips I've taken has been mediocre when best.
I experienced the only inedible Italian food on my first OAT trip Sicily; the Peruvian food was even worse. What I like the most about the OAT trips are the people who take them — interesting, friendly and fun travelers.
With food paramount, the only way to have made this trip palatable was finding dining options where I could easily skip an occasional meal and go on my own.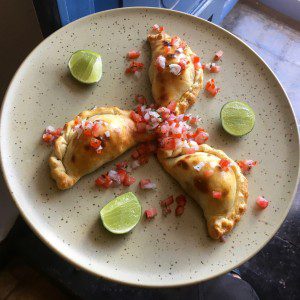 Glad I did.
One afternoon, we headed to Chicha in Cusco after a tour of the local food market, a few blocks from the Plaza de Armas up on the second floor. Having loved Gastón Acurio's La Mar in Lima, we thought we'd like the food and service at his Chicha. We were right.
We began with a bottle of a Peruvian Malbec (Intipalka, 2015,) and nibbled on some appetizer before deciding on our entree. The grilled octopus (~$14.75) with anticucho and chimichurri sauce was done to perfection, as it was at La Mar. With that we also had the empanada sampler  (~$6)- one with beef, one potato and the other with yellow chilies.
By the time we finished those tasty morsels, we didn't have room for a regular entree — so we ordered the wood-fired pizza with tomatoes, a local cheese, ground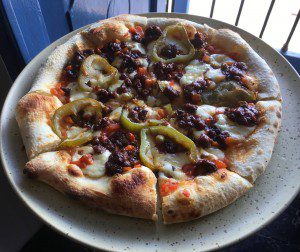 beef and chopped peppers (~$11.75) thinking we'd take it back to the hotel for a midnight snack. Wrong. It was so good, we demolished the entire pie.
If you're in Cusco, be sure to stop in at Chicha. Worth the visit.
– bonnie
Chicha
Heladeros 261,
Cusco, Peru
Save
Save
Save
Save
Save