Over three dozen leading women of stove, stage, screen and publishing unite to share their support for breast and ovarian cancer fighters and survivors at the 11th Annual "A Second Helping of Life" benefit on Monday, September 22, 6 p.m., at Pier 60 at Chelsea Piers.
Individual tickets are $325, $500 and $750. Tables of 8 and 10 are priced from $5,000 up to $35,000. For information call 212-937-5581 or visit www.sharebenefit.org
Participating Chefs: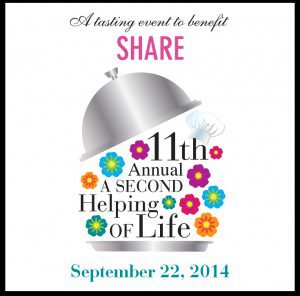 • Anita Lo, Annisa
• Rebecca Charles, Pearl Oyster Bar
• Alexandra Guarnaschelli, Butter
• Amy Scherber, Amy's Bread
• Alison Awerbuch, Abigail Kirsch Catering & Events
• Einat Admony, Balaboosta, Taïm, and Bar Bolonat
• Heather Bertinetti, Carbone, and Dirty French
• Amanda Cohen, Dirt Candy
• Amanda Cook, Cookshop
• Colleen Grapes, Oceana
• Patti Jackson, Delaware and Hudson
• Sara Jenkins, Porchetta & Porsena
• Elizabeth Karmel, Hill Country
• Sarabeth Levine, Sarabeth's
• Angie Mar, The Beatrice Inn
• Ashley Merriman, The Waverly Inn
• Sawako Okochi, Shalom Japan
• Deborah Racicot, Narcissa
• Alexandra Raij, Txikito, El Quinto Piño and La Vara
• Barbara Sibley, La Palapa
• Sue Torres, Tierra
• Christina Tosi, Momofuku Milk Bar • Jennifer Yee, Lafayette Grand Café and Bakery
Participating Celebrity Sous Chefs:
• Sade Baderinwa, WABC-TV Channel 7 News Anchor
• Brenda Blackmon, Television Journalist
• Lourdes Castro, Author, Latin Grilling
• Kathleen Chalfant, Actress
• Melissa Clark, Cookbook Author and Food Writer
• Letty Cottin Pogrebin, Author and founding editor of Ms. Magazine
• Elizabeth Falkner, Chef, Author
• Kitty Greenwald, Author, Wall Street Journal Columnist
• Donna Hanover, Television journalist
• Jessica Hecht, Broadway and screen actress
• Amanda Hesser, Cookbook Author and Food Writer
• Cindy Hsu, WCBS-TV News Anchor
• Jodi Kantor, NY Timescorrespondent and Author, The Obamas
• Ellie Krieger, Chef/Host, Food Network's "Healthy Appetite"
• Alex McCord, Television Personality
• Sara Moulton, Chef, Cookbook Author, TV Personality
• Karen Page, Food and Wine Columnist, Author, The Flavor Bible
• Lydia Polgreen, Deputy International Editor, The New York Times
• Joanna Pruess, Author, Cast Iron Cookbook
• Daphne Rubin-Vega, Actress, Performer
• Valerie Smaldone, Media Personality
• Linda Stasi, Journalist and Author
• Chely Wright, Country Music Artist and Gay Rights Activist
The event has raised over $3.5 million for SHARE, enabling this organization to continue to support those affected by breast or ovarian cancer.