Some friends were in town visiting and invited me to join them at A.O.C. At first I thought AOC referred to the French wine certification (Appellation d'Origine Controllee); instead its the French word for "the wing or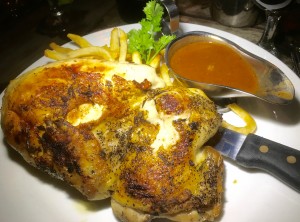 thigh" — L'Aile Ou la Cuisse.
Since the weather was still good, we sat outside in the large fairly quiet garden area, much quieter than inside. We shared a large assortment of of charcuterie & cheese while sipping our wine ($28). For dinner, I opted for the demi poulet, especially after learning the meaning of A.O.C. The half roasted free-range chicken was cooked to perfection, served with a rich aux jus and crisp French fries ($22). I'd recommend.
– bonnie
BonnieBOTB
Follow @BonnieBOTB

A.O.C.
West Village
314 Bleecker Street
New York, NY 10014
(212) 675-9463