On our sisters' trip to California recently, we stopped at a few interesting places for breakfast that I wanted to share.
In San Louis Obispo (SLO), we let my grand-nephew Kailer, who is attending Cal Poly, select Kreuzberg California on Higuera for breakfast day. It's a local art-adorned hangout serving house-roasted delicious coffee and small bites. One grand-nephew indulged in their Belgian waffle with fruit, maple syrup and dusted with confectioners' sugar ($9).
Another day when driving from SLO to Santa Barbara, we stopped at Bob's Well Bread Bakery known for his hand-made artisanal bread. Good bread is something New Yorkers are quite used to, an anomaly in Southern California Proprietor/Boulanger Bob Oswaks was serving that day at this gas station turned bakery. We arrived mid-morning at this order-at-the-counter cafe/bakery and sadly many of the pastries including the Kouign-Amann ($5) that I had read about were sold out. The current cardamom scone ($4) was how I like it, not overly sweet. Also available are sandwiches such as hummus and veggies on their ficelle (similar to a baguette but much thinner) along with a side salad ($9.75).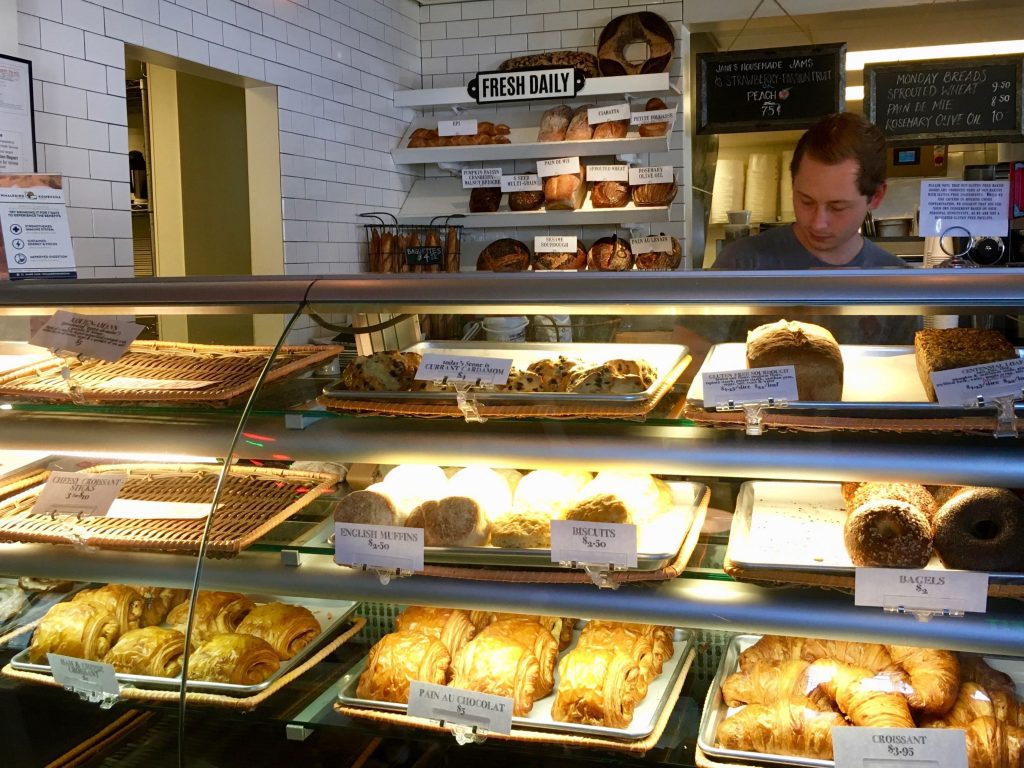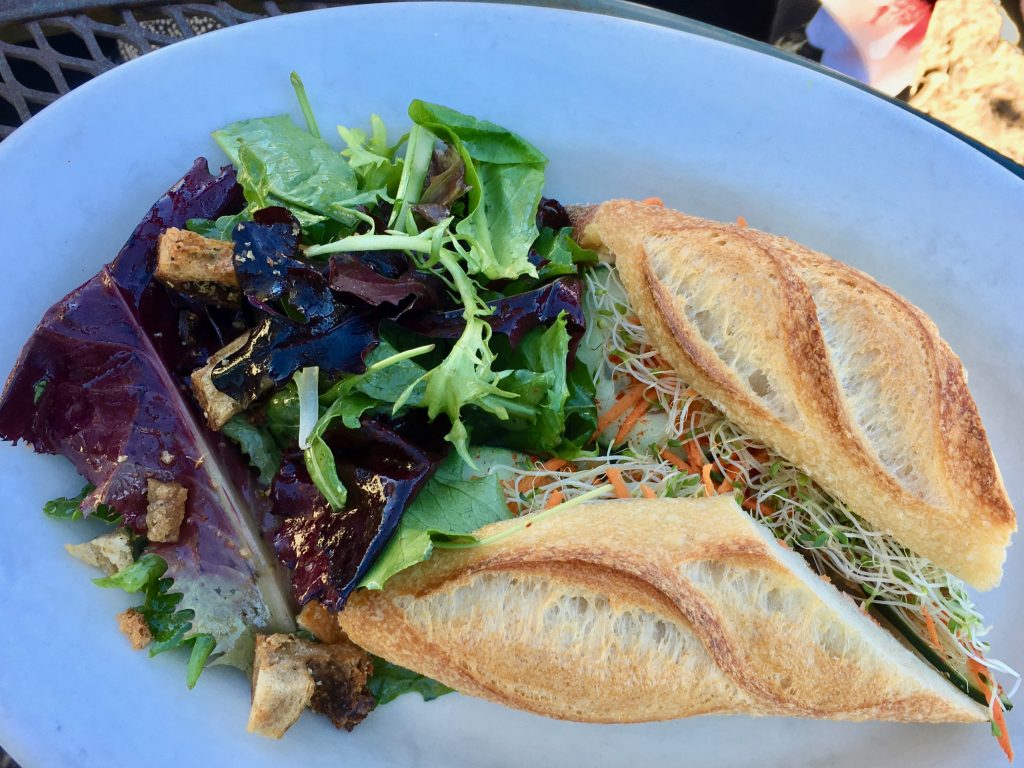 Our last breakfast on the trip was at Sambos a family-owned restaurant offering classic fare to start the day. We sat outside across from the beach at the Pacific for our last meal of this trip, as after our meal we were off to the airport, heading home.  One sister had the garden omelet ($14.85). I indulged in their special Huevos Rancheros Special made with poached eggs, layered fried corn tortillas, black beans, cheese and chorizo all topped with salsa and guacamole ($15.50). That was a meal that satiated me for the first leg of my flights home.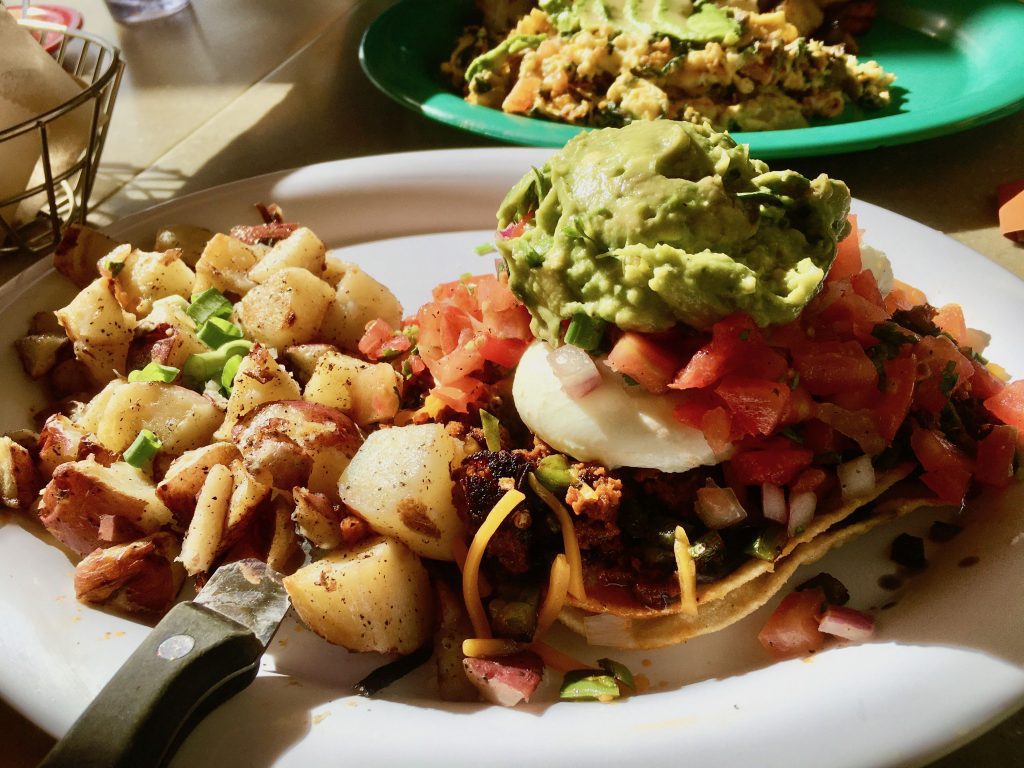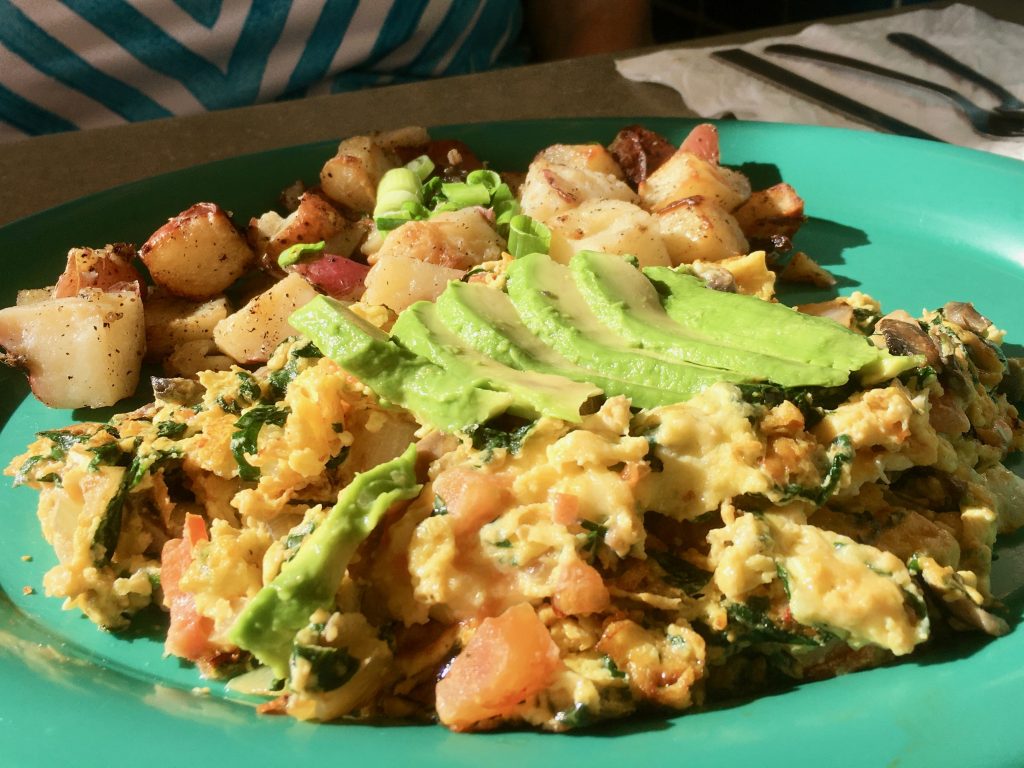 I'd recommend each of these breakfast places if you're in Southern California.
Sambos
216 W Cabrillo Blvd
Santa Barbara, CA 93101
(805) 965-3269

Kreuzberg California
685 Higuera St,
San Luis Obispo, CA 93401
(805) 439-2060

Bob's Well Bread
550 Bell St,
Los Alamos, CA 93440
(805) 344-3000