There are as many recipes for jambalaya as there are cooks. I add chicken and andouille; you might add duck, shrimp or other seafood and different smoked sausages. My hot-and-spicy version is based on the one in my first cookbook, "Rice," published in 1991, Harmony Books, co-authored by Joanne Lamb Hayes. We lucked out, having Harriet Bell as our editor. Make this your own by adjusting the quantities and types of ingredients.
Jambalaya is my favorite dinner-party meal because I can do most preparation ahead. I do so through the addition of the broth, finishing to that point shortly before my guests arrive. While everyone is enjoying a cocktail and starters, I slip into the kitchen to get the salad course and turn the fire on under the jambalaya. When the liquid comes to a boil, I mix in the rice, cover the pan, reduce the heat to low and head back to my guests.
All you need fora complete meal is a crusty baguette and some fresh vegetables.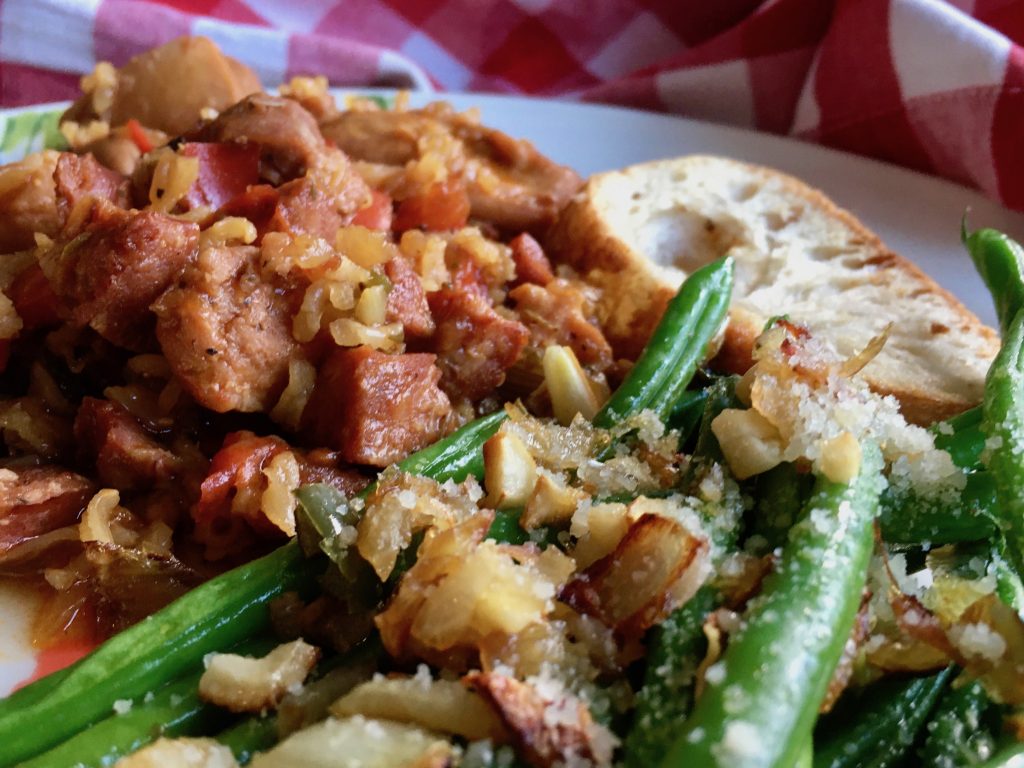 Jambalaya
Makes 4 to 6 servings
1 tablespoon olive oil
2 large onions, chopped
12-ounces (3/4-pound) andouille sausage, diced
1-pound boneless, skinless chicken thighs
Salt
Black pepper, freshly ground
Cayenne (ground red) pepper
1 stalk celery, chopped
1 red bell pepper, seeded and diced
2 cloves garlic, minced
1 cup rice*   
14-ounce can crushed tomatoes in puree
2 teaspoons oregano
1 teaspoon Tabasco sauce
1/2 teaspoon thyme
1 bay leaf
2 cups homemade or canned chicken stock or broth
Heat oil in a large 2-quart heavy-bottomed saucepan over medium heat. Add onions and cook, uncovered, stirring occasionally, until the onions being to caramelize, about 10 minutes. Do not burn. Add andouille and cook until the sausage begins to brown, about 5 to 7 minutes.
Season the chicken with salt, pepper and cayenne pepper to taste. Increase the heat to high, add the chicken and brown on all sides, moving the cooked onion and sausage to the side of the pan.
Add celery, red bell pepper and garlic; cook, stirring frequently for 5 minutes. Add rice and stir to coat with the liquid from the pan. Add the undrained tomatoes, the oregano, Tabasco sauce, thyme, 1/2 teaspoon cayenne, bay leaf and stock or broth. Bring to a boil over high heat, cover and reduce the heat to low. Cook until the liquid is absorbed and the rice is tender about 20 to 25 minutes. (This could be longer depending on the type — brown or white — and variety of rice. )
Remove from heat, let stand 5 minutes. Remove bay leaf; taste and adjust seasonings before serving.
*if using brown rice, increase cooking time to 45 to 50 minutes.