What's better than heading down to the local butcher shop to pick out a nice steak for dinner? How about if you could just order it up online, and not from just any meat purveyor, but from a highly respected boutique purveyor? 35° Premium Aged Steaks
is now open for business and accepting orders at 35DegreesSteaks.com.
35° Premium Aged Steaks online allows home chefs and foodies across the country to now access fresh meats previously only offered to top restaurants and steakhouses. This level of premium quality product has never before been available to online consumers before!
35° delivers fresh steaks and quality meat products to your door, and it's all done overnight! The company specializes in Prime and Certified Angus Beef grades, but also promotes high-grade pork such as Kurobota and Salmon Creek. Thinking about something a bit more gamey?  Colorado Lamb is one of their best.
A variety of custom cuts also include: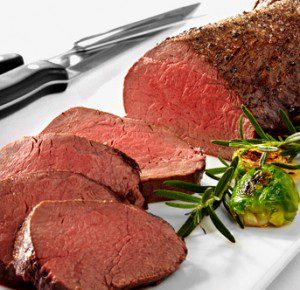 New York Strip Steak
Filet Mignon Steak
Porterhouse Steak
Rib Eye Steak
Roasts, New York Sirloin and Filet Mignon
Colorado Lamb Rack
Colorado Lamb T- Bone Chops
Kurobuta Pork Rib Chop
Salmon Creek Natural Pork Porterhouse Chop
-bryan
35° recommends a ten pound single cut box. You can choose from a pre-selected assortment or customize your own 10-12 pound box. Half-pack assortments offer a smaller box alternative . 35° products are vacuum packaged, shipped fresh never frozen, and when properly refrigerated boneless cuts have a 14 day shelf life, and bone-in cuts 10 days. There is not a better piece of meat online, or maybe offline.