Laura Maniec realized her dream with the opening of Corkbuzz – her restaurant, wine b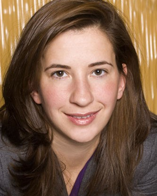 ar and educational center. Actually this 32-year-old has achieved more than one of her dreams.
Laura was the youngest Master Sommelier in the world until recently when two people younger than she just passed the exam.  She's still one of only 18 women to have achieved this accreditation.
I was lucky enough to sit with Laura for a few minutes recently at Corkbuzz – and gleaned from her the best deals on their ~ 250 bottle wine list.  Those bargains are listed below.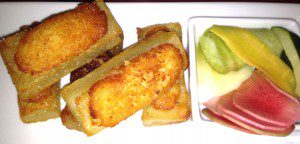 Before I share, I wanted to give my thoughts on the nibbles. Do not miss the bucatini ($15).  Corkbuzz's Bucatini contains parmesan-showered brussels sprouts and chili oil,  sprinkled with more sprouts, but instead of halves, shredded and crispy. The pasta is that thick spaghetti-like pasta with a hole in the center.  Skip the miniscule portion of salmon and beets ($14), but do sample the fries ($9) — thick fries topped with cod brandade served with delicately picked veggies.

Here are Laura's dozen deal picks on the Corkbuzz menu….
(z125*) Francois Chidaine '10 Touraine, France $30  "Sauvignon Blanc from one of the best Liore Valley producers"
(y109) Francois Baur Herrenweg Pinot Blanc '08 Alsace $45
(y121) Valdesil Godello '09, Valdeorras, Spain $43
(z103) Barone di Valforte Passerina '09, Colli Aprutini $40
(c918) Eyrie Vineyards Pinot Gris '08, Williamette Valley, Oregon $43 "Best producer in the Williamette Valley…  first ones to plant that grape in the US."
(z106)  Quinta Nova Pomares Branco '10, Douro, Portugal "Unique Portuguese Wine for only $40"
(a112) Chateau Puy Arnaud Maureze '05, Cote de Castillon, France $45
(d113) Alvaro Palacios Camins del Priorat '09m Priorat, Spain $50 "A steal"
(c913) Altesino Rosso de Altesino'09 ,Montalcino, Italy $40 "Delicious."
(d211) Kingston Family Lucero Syrah '09, Casablanca Chile $46 "Full bodied and less than $50.  My favorite … the cooler climate is better for Syrah."
(e213) Iby Blaufrankisch '10 Burgenland, Austria "From one of the best Austrian producers."
(d302) Chappellet Mountain Cuvee '09 ,Napa Valley $45 "A steal."
*NOTE:  The parenthetical letter and number is how each one is identified on their wine menu.
Although Laura says it's hard to find bargain in Burgundy, she mentioned that these two are reasonably priced.
(a105)   Chandon de Brialles Savigny-les-Beanue Villages '09, Savigny-les-Beanue France $68 "Delicious"
(a312) Chateau La Rose-Pourret '08, St. Emilion, France $65
– bonnie
Follow @BonnieBOTB
Corkbuzz Wine Studio
13 E. 13th St
New York, NY 10003
(646) 873-6071
corkbuzz.com