You only live once: the name and motto of the fabulous hip restaurant YOLO on Los Olas Boulevard. Actually YOLO has two bars and a garden patio with an open fire pit. And after dining,  you can head Vibe, to the hot disco next door also owned by Tom Petrillo's The Restaurant Group.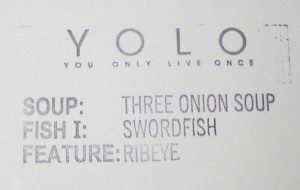 (Click here for details on how you can  win a gift certificate to YOLO.)
Our group headed there after an exhilarating third day on our Spa-Chic press trip at the W Hotel in Fort Lauderdale. After our morning beach walk, we sampled classes from ProPilates at a W Wellness Happening with locals invited. The exhausting but oh, so much fun cardio-ballet and Brazilian butt sessions were amazing, with every muscles in my legs knowing I'd pushed my limit.  Luckily for me, I had sche

duled a needed 75-minute relaxing massage at the bliss spa, located in the W.
Thank goodness I'd used up so many calories, since YOLO served us nonstop foods to sample.
Once we were seated at the paper-topped table, a staff member walked by, said, "Here's tonight's specials," and stamped them right onto the table top!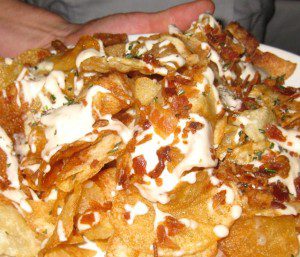 Then, cocktails began with a Martini Flight ($18)  featuring three pairs of  drinks — a lemon drip, strawberry martini and caipirinha— served in a martini tree.
The management served our group lots of their signature starters, family style. The mussels  for the steamed Mediterranean mussels ($12) — not to be missed — were steamed first, then cold smoked and finished on the half shell with a delicate, flavorful corn-cumin vinaigrette and diced chorizo. I wasn't wild about the meatball sliders ($4 each), a veal and pork, gar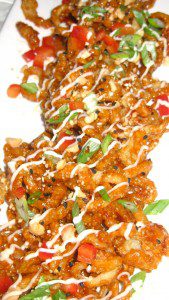 lic and onion meatball roasted in a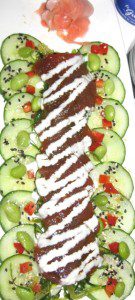 tomato gravy served on a garlic-butter toasted dinner roll along with on a bit of arugula and herb ricotta. Just too mushy for my tastes.
I liked the first crispy chip from the signature truffled YOLO chips ($9.5) house made potato chips, drizzled with a bit of truffle oil, a blue cheese bechamel sauce, some  bacon and thyme …. something to be shared, for sure.
We also sampled tuna sashimi ($9/17)- thinly sliced tuna topped with a Szechuan vinaigrette over a seaweed salad with some cucumber, edamame beans and red pepper, sprinkled with black and white sesame seeds, served with pickled ginger. Another favorite of mine is their Szechuan calamari ($10.50) cornmeal crusted fish, flash fried then tossed in chili garlic sauce, black and white sesame seeds, scallion with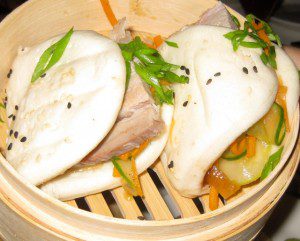 roasted red peppers finished with a miso aioli. Spicy and irresistible. Next, the refreshing rustic Horiatiki peasant-style Greek Salad with tomatoes, olives, cucumber, fresh feta with parsley and basil tossed in an oregano vinaigrette ($11.5). And, a tender Steamed Pork Buns with juicy slow roasted pork belly, a cucumber – carrot – kimchi slaw and a sweet glaze made with oyster sauce, ginger, rice wine vinegar and mirin on a soft bun ($9).
I ordered (and shared) the summer grilled grouper entree  ($25)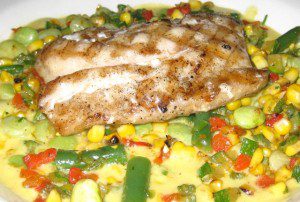 — with the grouper served over fire-roasted succotash vegetable medley base with a sweet corn sauce around those veggies. That rich sauce was made with puree roasted corn and rendered bacon with just a touch of cream.
Also at the table being shared: ribs ($24), a full rack of danish pork ribs, dry rubbed,  slow roasted, then finished on grill with a housemade smoky ancho bbq sauce and served with thin cut fries and a green apple slaw. And an herb peppercorn crusted seared flatiron steak, grilled perfectly and serve with arugula, fennel and grape tomato salad in a sherry Dijon vinaigrette.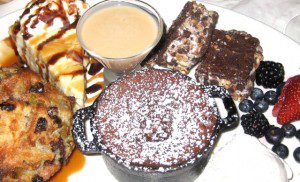 For dessert, they sent out an array of their goodies family style again for all of us to share (each $8): A chocolate lava cake, a croissant bread pudding with chocolate chips, pecans and raisins in a caramel sauce, scoops vanilla gelato, seasonal berries, banana coconut cream pie with a cashew graham cracker crust and a nut-crusted ice cream sandwich with a  chocolate espresso cookie crust and vanilla gelato filling that came with a shot of white chocolate and cinnamon as to drizzle over top.
Thank goodness we have a sunrise walk along beach followed by kayaking  at John U. Lloyd Beach State Park scheduled tomorrow to work off some of this incredible meal.
– bonnie
Follow @BonnieBOTB

YOLO
333 E Las Olas Blvd
Fort Lauderdale, FL 33301
www.yolorestaurant.com
(954) 523-1000