PAST BITE
November 28, 2012
Impress guests at your holiday table by serving Cedar Springs lamb or veal from Mountain States Rosen. Both are raised in the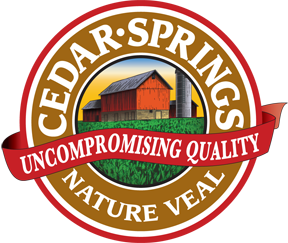 US by a family of ranchers and growers dedicated to their land, their animals and their trade.
As the only national U.S. producer-owned and -operated, vertically integrated lamb and veal company,  Mountain States Rosen maintains control, from feed to processing to delivery, enabling this U.S. farm co-op to provide the safest, highest quality lamb and veal – free from harmful additives or residues.
Cedar Springs Nature Veal is the preferred choice of many 5-star chefs across the country as it is fork-tender and velvety. This veal is naturally bursting with flavor, is also lean and full of important nutrients.
Cedar Springs Lamb is raised responsibly on open U.S. pastures. It is USDA "all natural" (no artificial ingredients and minimally processed) and has a delicate texture, rich in flavor and nutrients.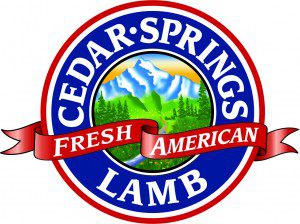 Take a chance to win one of two (2) prizes on Bite of the Best. Specifically one winner will receive a sample of Mountain States Rosen's Cedar Springs Nature Veal  (1.5 – 2 lbs veal cutlets and 2-3 lbs veal loin chops); the other will receive a sample of USDA Choice all natural Cedar Springs Lamb (a 5-6 lb leg of lamb). Only available to U.S. residents. Each prize value ~$70.
TO WIN: Post a comment here telling which meat you prefer – lamb or veal. (To help stop spam, please complete the CAPTCHA, the simple math equation.) Only one entry per person. Be sure your email address is listed correctly so we can obtain your shipping address—should you win one of the prizes.
Then head to the MSR Facebook page for three (3) chances to win an Emeril by T-fal Electric Nonstick Mini Pie Maker ($50 value). To enter their "ReVealing Holiday Sweeps"  click here. With that prize you can make Mini Veal Pastry Pies (click for the recipe).
Both the FREEBIE and the Facebook ReVealing Holiday Sweeps end at midnight December 14, 2012.
62 Comments on "Win Cedar Springs Nature Veal, Cedar Springs Lamb"
olympicgirl Says:


I am torn because I prefer both, but leg of lamb is one of my husband's favorites, so lamb it is. Thanks

mane40 Says:


Veal!

tammyjo50 Says:


I prefer veal

cooperdk5334 Says:


Let's have the Leg of Lamb. Covered with fresh Rosemary. Mouth watering

Womenfest Says:


Leg of lamb is a great company dish.

mikeline skibsted Says:


I was born and raised in the Middle East. I LOVE lamb! I also enjoy Veal Parmesan.

Bonnie from BiteoftheBest.com Says:


Mikeline: To be entered in the FREEBIE — choose one, right now your entry contains both.

Lyerka Says:


Definitely veal

mikeline skibsted Says:


I choose the Lamb!

KMFF Says:


Veal would be wonderful.

Jean b Says:


Lamb

Diane Says:


I choose veal, thanks.

yukomushimushi Says:


Absolutely Lamb !

Goldenmane Says:


I love both but, since there is only one of me, a lovely leg of lamb would be too much. So I choose the veal. Lots I can do with veal and it can be several portions for one person.

merstar Says:


I prefer veal.

Louis Says:


I would choose veal.

Rita Says:


I would prefer the veal.

DeaconMac Says:


lamb, especially lamb chops, are our favorites. We are partial to New Zealand lamb and have never found other sources to be as good, but we haven't tried Cedar Springs yet, so we'll try to do so and see if it's as good or better.

johnk24 Says:


love it

johnk24 Says:


veal

flasimo Says:


Decisions, decisions… Lamb wins out

bigjack Says:


Definitely the veal.

GATORMOM Says:


Lamb for me!

Lexiquin Says:


I prefer veal. Thanks for the giveaway!

silanti Says:


Veal for the holidays. Thanks!

granny907s Says:


I would love the Veal! I have not had veal in SO long.. Used to get it a lot in the Chicago area, but not where I am now! MISS IT.

Hank Mccoy Says:


I like lamb

tammyjo50 Says:


VEAL

tracey byram Says:


I like both but I like lamb a little bit more than veal.

CateS Says:


Love lamb! roasted leg of lamb, lambchops…

sherwin954 Says:


I like veal a little more than veal.

sherwin954 Says:


Correction…I like veal alittle more than lamb.

greco5 Says:


Veal

Joan Says:


Tough question to answer, but I'm going with veal. It's so easy to prepare, and there are so many great dishes to make with veal.

Gwenelle Says:


Ooh, lamb, lamb, lambity lamb! I always have lamb chops on my birthday just because I think they're the specialest of all special meals.

baderman Says:


I love veal it's vealy vealy good!

drmrs Says:


LAMB-If I have "green jelly," then I like lamb. VEAL-If I have "Parmesan cheese," then I like veal. IF I have lots of good wine, then I love everything, maybe even ulgy girls! drmrs 12/5/2012

Kimm Bonner Says:


I pick veal, although I love both! For some reason, I usually just don't cook veal as much at home. I do have an incredible recipe for veal chops though with white wine, mustard, brown sugar, ginger, dried apricots and prunes. Really delicious

chanceuse Says:


Veal all the way

Catherine Says:


I prefer veal.

lolaphong Says:


Definitely lamb. I think the last time I ate veal was in the nineties. My current favorite way to prepare lamb is braised in milk with fennel bulb.

sandra Says:


i prefer veal

hebeegeebeads Says:


Lamb please!

Kristine Kidd Says:


Lamb

FRANK S Says:


VEAL

rosalba Says:


I prefer veal

Amy M. Says:


I'm a lamb person:)

Charles V Says:


I like the Lamb

michealgrim Says:


for me i love both but i will say lamb!!!

EmilyR1 Says:


I love lamb and would love to try this!

Womenfest Says:


Lamb I am!

secretiveb Says:


Love both but I think I'll go with lamb. I see lamb curry in my future

Lesley F Says:


Love veal!

Allyson Bossie Says:


I would like the lamb
masugr at yahoo dot com

em Says:


Veal

CB Says:


lamb…

Susan Goldsmith Says:


Lamb — so much flavor. I love it as shanks in long simmering dishes or butterflied leg on the grill with yogurt marinade. Lamb is the best!

Starletta Schipp Says:


Love lamb

Steve McCuan Says:


ilove it i love it i want some more of it

Jackie Plant Says:


Lets seal the deal with some delicious veal.
Love both veal and lamb, and damn I'd like to eat all the meat.

Tiffanie Grimes Says:


I love all parts of the lamb including lamb balls they are great making lamb fries with a little bit of cream gravy on the side awesome! I do enjoy veal but I have to choose its t to be lamb is my favorite I love lamb chops lamb leg lamb fries and moat all other types of lamb

Mary L. Says:


Lamb!!!
Leave a Comment or Write a Review
Posting Policy
Bite of the Best encourages our readers to comment on and review any products that we write about. Please express your opinions in a mature and civil tone of voice. We will not post rude or otherwise inappropriate material on Bite of the Best. We look forward to your comments and reviews!