As I wrote earlier when I visited Union Square Cafe for lunch, I had heard rumblings that this highly acclaimed restaurant wasn't what it used to be. On this evening visit, I learned why.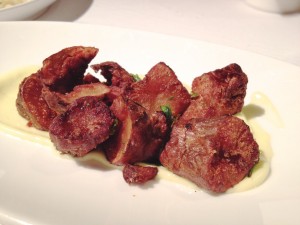 We were four women celebrating. Our server Bob was not happy with our ordering and he showed it with a soupçon of attitude. Instead of each of us ordering an appetizer and entree, we shared many small plates, a couple bottles of wine and lots of laughs! He was not pleased.
First we nibbled the not-to-be-missed flavorful salt-baked sunchokes (Jerusalem artichokes) served with a lemon aioli ($6),  fritto misto ($15) —  a mixture of pepper with fried squid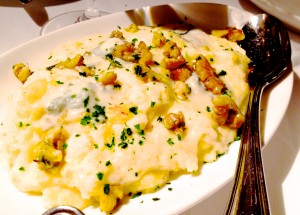 and oysters; and a plate of their timeless and rich polenta, made creamy with gorgonzola and topped with walnuts ($9). Our selection of the crisp Sancerre Sylvian Bailly, La Croix St Ursin 2012 ($56) worked well with all.
For pastas, we shared the Mezzi Paccheri ($28), the traditional Neapolitan giant tube-shaped pasta with Brussels sprouts —sadly ours arrived with a measly four sprout halves! The flavor, though, was delicious with the cured pork cheek — guanciale — and sage. Also interesting were the butternut squash tortelli ($27) with cranberries, in a sage brown butter drizzled with balsamic. The scallops ($31) wrapped in prosciutto came with marinated beets over a bean puree.
Although the food was good, the attitude left a bad taste in our mouths. And so Union Square Cafe will no longer be one of my top NYC reccos!
– bonnie
Union Square Cafe
Right off Union Square
21 E 16th St New York, NY 10003
(212) 243-4020