CITY EDITIONS
January 19, 2014
As I wrote earlier when I visited Union Square Cafe for lunch, I had heard rumblings that this highly acclaimed restaurant wasn't what it used to be. On this evening visit, I learned why.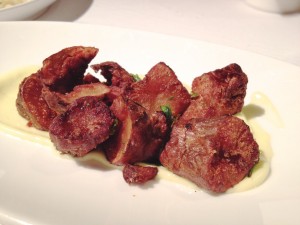 We were four women celebrating. Our server Bob was not happy with our ordering and he showed it with a soupçon of attitude. Instead of each of us ordering an appetizer and entree, we shared many small plates, a couple bottles of wine and lots of laughs! He was not pleased.
First we nibbled the not-to-be-missed flavorful salt-baked sunchokes (Jerusalem artichokes) served with a lemon aioli ($6),  fritto misto ($15) —  a mixture of pepper with fried squid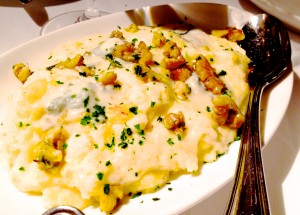 and oysters; and a plate of their timeless and rich polenta, made creamy with gorgonzola and topped with walnuts ($9). Our selection of the crisp Sancerre Sylvian Bailly, La Croix St Ursin 2012 ($56) worked well with all.
For pastas, we shared the Mezzi Paccheri ($28), the traditional Neapolitan giant tube-shaped pasta with Brussels sprouts —sadly ours arrived with a measly four sprout halves! The flavor, though, was delicious with the cured pork cheek — guanciale — and sage. Also interesting were the butternut squash tortelli ($27) with cranberries, in a sage brown butter drizzled with balsamic. The scallops ($31) wrapped in prosciutto came with marinated beets over a bean puree.
Although the food was good, the attitude left a bad taste in our mouths. And so Union Square Cafe will no longer be one of my top NYC reccos!
- bonnie
Union Square Cafe
Right off Union Square
21 E 16th St New York, NY 10003
(212) 243-4020

Rate This Product
Mouseover the crowns to highlight your rating and then click to record your rating. The rating shown is the average of all the user votes. You can only rate each product once.
Leave a Comment or Write a Review
Posting Policy
Bite of the Best encourages our readers to comment on and review any products that we write about. Please express your opinions in a mature and civil tone of voice. We will not post rude or otherwise inappropriate material on Bite of the Best. We look forward to your comments and reviews!