I had heard rumblings that Union Square Cafe wasn't what it used to be. I stopped by recently to see whether that sad fact was true.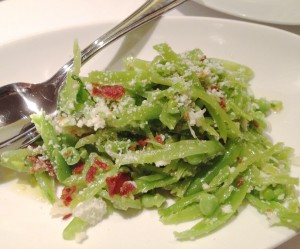 It isn't. Union Square Cafe — Danny Meyer's first restaurant in his ever-growing delicious empire — is still first rate.
While deciding on lunch, we nibbled succulent olives sitting in EVOO and dense crusty bread that one bite reminded me how irresistible their bread is.
If still on the menu, do not miss the fresh snow pea salad of julienned pea pods, olive oil and cheese. Simple. Divine.
We then shared an order of gnocchi, or as our waiter aptly described as little clouds of goodness. The ethereal ricotta dumplings come swimming in a chunky fresh tomato sauce and dissolve as they touch the warmth of your tongue. Another dish not to miss.
We shared the crispy soft-shelled crabs over a summer slaw, as crunchy as the crabs. Another delight. All our selections worked very well with the medium-bodied Soave Classico, Inama 2010 ($52) with its touch of sweetness.
This old-favorite remains one of my top choices for good food and fabulous service. Don't miss it.
– bonnie
Union Square Cafe
Right off Union Square
21 E 16th St New York, NY 10003
(212) 243-4020