CITY EDITIONS
August 30, 2011
Arturo and Suzette Franco-Camache have done it again. That incredibly creative restaurateur team who changed the New Haven dining scene in the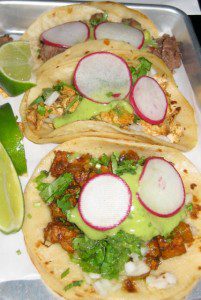 late 90s when they opened Roomba the Nueuvo-Latino downstairs restaurant in Shubert Alley, hit their mark with their new side-by-side duet of restaurants in Branford.
(Yes, that team also owned New Haven's Bespoke, and Branford's The Suburban.)
Franco (as Arturo's friends call him) was born and raised in Mexico beginning his skills helping his mom. Tacuba Taco Bar includes the food influenced by his youth:  Mexican street food with a Latin influence.
While waiting for a table at Tacuba, you can have a drink at their second place, right next door.  Swill Wine Bar (1205 Main St.,  203-208-0423) features a full bar, a value-priced wine list and small plates to curb your appetite as you wait.
I started with a Margarita (Tres Generales Silver blanco tequila, cointreau, lime salt; $14) as I knew the rest of my meal would be from south of the border and just wished they offered chips and guacamole to accompany it. Instead their small menu includes sandwiches, salads, cheeses, charcuterie and sweets. I'll try those another time.
Once we got our table, we began with their classic Lobster Arepa ($11), a sweet corn cake with lobster, avocado and Mexican creme — itself worth the visit.  Next we enjoyed a trio of tacos ($4 each or 3 for $11):  Carne Asada (grilled adobe marinated skirt steak), Pollo Asaso (adobe-marinated roasted chicken) and Al Pastor (tender achiote Pork, pineapple, grilled onions) and a tender Duo Ceviche of the day ($16).
I was too full to sample more and so must go back and do so! I recommend you do the same.
- bonnie
Tacuba Taco Bar
1209 Main Street
Branford, CT
203-481-1414
www.tacubataco.com
3 Comments on "Tacuba Taco Bar in Branford"
Michael D. Says:


I too am in agreement with the mark Roomba left on the New Haven dining scene. Sorry to see The Suburban go, but glad to have Tacuba to fill the void. Been there three times already and will continue to enjoy. Whether you have a little taste of Swill to start your night, or even better to end with resonably priced wine with a chocolate fondue the combination of the two restaurant's will not dissapoint.

Darpa Govinda Says:


Why am I going to Tacuba, just to be disappointed when they abandon that too?

valdirene Says:


Our first time to Tacuba was Feb 11th, 2012 at 7:30 pm. The ambiance was inviting and unique, yet the hostess was seemingly lost and unprepared for a busy Saturday evening. Upon unclear instructions from the hostess as to us sitting "at the bar" at Swill (bar next door attached)we choose instead to sit at Tacuba's bar, but then – unfortunately, waited at least 15 minutes before the bartender even acknowledged our presence! The bad thing was that he was not even busy with other patrons, he was cutting limes and washing glasses. After finally being recognized by him, we ordered chips and the Salsa/Guacamole appetizer which was authentically great!We were orignally told a wait of 30 minutes would be ahead of us… but when a table opened up after 40 minutes, it was almost given to a couple who just walked in… we reminded the waiter and he gave it to us instead… All in all the food was outstanding and prices were in line with the portions. Grade of "A" for the food, but a "C" for service… We will go back, but hope that the service has improved – we'll see.
Leave a Comment
Posting Policy
Bite of the Best encourages our readers to comment on and review any products that we write about. Please express your opinions in a mature and civil tone of voice. We will not post rude or otherwise inappropriate material on Bite of the Best. We look forward to your comments and reviews!