It's a new economy and restaurants are doing everything they can to continue and attract customers. 'Set menus' are reappearing as a means to more food for less money, as diners look to stretch their dollars at the dinner table. On this note, I recently took the opportunity to try a special occasion menu at a talked about Atlanta Japanese restaurant I'd yet to sample.  STEEL is engaging at first glance, with a zen garden-like atmosphere that includes an extravagant fountain, forming a literal rain curtain, wrapping around the bar and lounge area.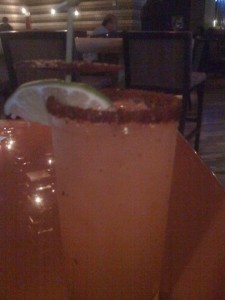 My friend Sous had informed me about the dinner, but I had completely overlooked the fact that this 'Friday the 13th' special menu had a focus on 'fire', heat that is! This was to be an adventure in tongue burning, a sniffling journey right through to a dessert that, at first glance, would offer no respite from the spice.. My friend was 'fired up' about the prospect of the heat, I was a little scared… but on we went.
Appetizers started with jalapeno/ginger chicken dumplings; pan-seared, the crisp edges of the thick noodle wrappers offering some relief from the spicy filling inside. A sushi course followed, consisting of a Hell Roll (tuna, asparagus, spicy mayo, siracha, and Japanese chili) and Devil Roll (tuna cucumber, wasabi & yellow mustard), one hotter than the next… no need for extra wasabi mixed-in the soy for these bites; though Sous did wash them both down with a fiery concoction of a Fresno pepper infused margarita (with chili 'salt').
We went two for three on the entree offerings (skipping the wok fired beef w/ jalapeno pepper sauce) following a mid-dinner reprieve in the form of a cream sickle (orange cream). Though oddly plated and served, the ice cream treat provided a much needed break from the tongue punishing spices. We finally filled-up on our entrees: Habanero scented, orange peppered chicken; lightly battered and served with green beans and sticky rice was nicely composed dish while spicy pan-fired shrimp played amongst a vegetable, noodle broth with Thai Bird Chili for our second offering. With sniffles ensuing all around, we then opted for a doggy bag and took a peek at dessert.
A near miss and a slam dunk is how I would describe our sweets. Yellow-curried ride crispy treats were served with a caramel swirl and (very tasty) vanilla ice cream… interesting flavor we agreed, but I wouldn't add it to the regular menu anytime soon. The wasabi cheesecake with honey wasabi sauce, on the other hand, was a real winner; subtle, calm heat warms the end notes of this creamy, rich dessert.. a sensation that I had not had from a sweet course anytime I can remember!
-bryan
STEEL Restaurant
http://www.steelatlanta.com/
Esquire Magazine
"Best New Restaurant Bar 2001"