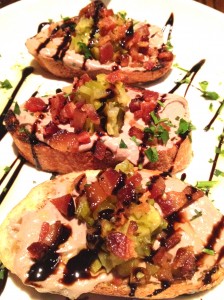 Earlier this year, I visited Lowcountry in Manhattan for brunch one Sunday when guest chef Ron Eyester from Rosebud in Atlanta (Virginia-Highlands neighborhood) was cooking with chef/owner Oliver Gift.  Ron invited me to sample his fare the next time I was in Atlanta. How could I resist?
Ron wasn't in town when I had the opportunity to be in Atlanta last month, but his incredible staff took fabulous care of me and my dining partners.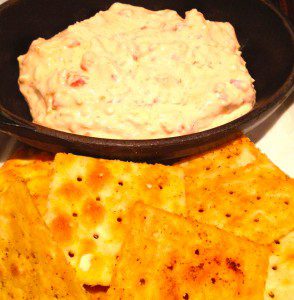 We sampled many of their delicious starters while sipping a refreshing 'Rosebud punch'— a combination of Amaro Nonio (bitters) green tea, Cocchi Americano (white wine liquer), sugar and soda ($9).
The crispy Point Judith calamari went very well with both the accompanying lemon pepper aioli and duck sauce ($11). Though we didn't pick it at first, a server tip led us to the house-made pimento cheese, which we loved! A blend of cream cheese, cayenne pepper, roasted red peppers and Tillimook cheddar cheese served with spiced saltine crackers. And these 'saltines' are not your regular fare, instead these are re-baked after having been dipped in clarified butter and cayenne, making the crackers a bit spicier, a nice contrast to the chilled cold pimento cheese($8). Another favorite is the chicken liver t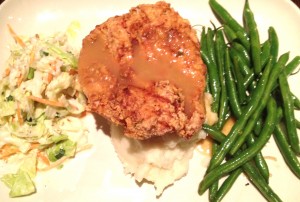 oast ($8). A pate made from Springer Mountain chicken livers, port wine, onions, garlic, rosemary and sage tops the toast made from house-made bread.. with a butter pickle relish,  Benton smoked bacon and a drizzled balsamic reduction finishing it all off ($8).  Fork-tender braised white oak pastures beef cheeks are presented with chipolte jus and topped with local cluster tomato pico de gallo, refreshing yet spicy from an extra dash of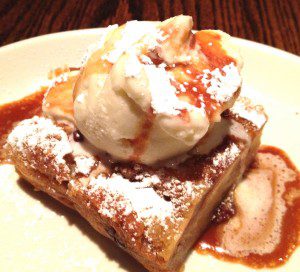 smoked jalapeno. The grilled jumbo asparagus with strawberry vinaigrette ($8) — topped with  pickled leeks and Midnight Moon Gouda from Cyprus Grove, California — are quite tasty but paled in comparison with the bold flavors of everything else.
What would a visit to the South be without fried chicken or shrimp & grits? We had both. The buttermilk Springer Mountain Fried Chicken ($17) consisted of a boneless breast atop mashed potatoes with Southern cole slaw and green beans. The Wild Georgia Shrimp & Grits ($18) is served with sliced andouille sausage and marzano tomatoes. We also had a side of the rich and creamy Cranberry Mac & Cheese ($5), though the addition of the dried cranberries seemed an after thought.
A wonderfully diverse and reasonably priced wine selection made the meal even more enjoyable. We found that the Crossings Sauvignon Blanc ($38) paired perfectly with our wide array of white meats and seafood.
Saving just enough room for a shared serving of dessert, the drunken-cherry bread pudding worked nicely. A plate that must have been envisioned for three forks, the sweet treat is made from rich brioche combined with Jack Daniels soaked cherries and topped with ice cream and caramel sauce.
– bonnie

Rosebud
1397 N. Highland Avenue Map.2009931
Atlanta, GA 30306
(404) 347-9747
rosebudatlanta.com