After shopping downtown, a friend and I decided to pop into Palmeira Brasil on Orange Street for a cocktail and a snack.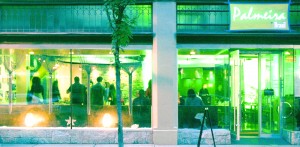 The restaurant opened  last year, closed within the year and re-opened a few months ago under the same name with new owners. The décor is a cool white with green accents and colorful wall murals. A separate room for private functions is available.
As a complimentary happy hour appetizer, Palmeira offered spicy Brazilian wings with just the right amount of zing without being too spicy.  With that sipped  "The Salty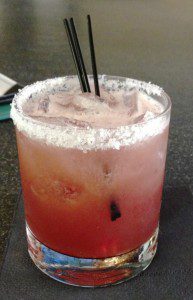 Poodle" ($10), a pretty pink concoction of Lunazul Reposado Tequila, Velvet Falerum, triple sec, crème de cassis, fresh grapefruit juice and  fresh lime juice, served in a glass with a half salted rim and grapefruit peel garnish. Refreshingly not too sweet or tart.
Deeya's Chicken Coxinha ($8) comes with three crisp and tender shredded chicken, potato and pea croquettes, served with a Brazilian vinaigrette and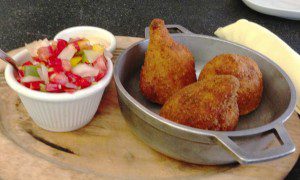 a spicy aioli. .
Palmeira Brasil offers salsa dancing on Thursdays, jazz music on Tuesdays and for something different, burlesque on Sundays.
Palmeira Brasil
56 Orange St.
New Haven, CT
203-691-9918

Special correspondant:  Robbin Seipold  www.robbinslist.com