Orso was the restaurant I had been thinking of when I accidentally booked Becco. It, too, is on theatre row, packed until curtain time but for a pre-theatre reservation you need to call 30 days in advance. Orso serves regional Italian cuisine in a cozy, trattoria setting and is owned by legendary restaurateur Joe Allen.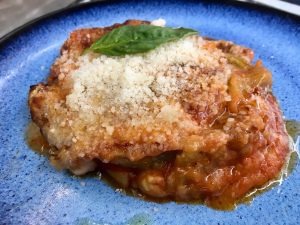 I stopped in recently on my way to see the Broadway revival of Harold Pinter's "Betrayal," starring Daniel Craig and Rachel Weisz. It wasn't the play that drew me to buy tickets, but the chance to see the current James Bond and his wife the Oscar-winning movie star in a Mike Nichols-directed play. I'd only suggest seeing the play —  about love and infidelity and told in reverse chronology —  if you wanted to see Daniel Craig and Rachel Weisz on stage, otherwise I wouldn't recommend it.
As for Orso, we sipped on the rich and rustic Nero D'Avola, Cap Soprano 2010 Sicilia ($34) as we nibbled the pan-fried baby artichokes seasoned with garlic and menu-described hot pepper (not enough though to be noticeable) all topped, Pecorino Romano ($16).
We then share the new pizza fichi, a meal in itself. The crust is topped with black mission figs, goronzola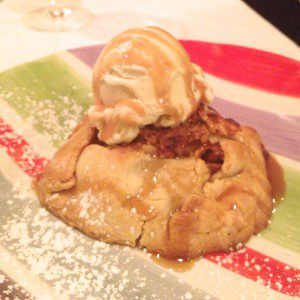 cheese, mozzarella, prosciutto, walnuts chopped and fresh arugula ($17). And for pasta course, we sampled the tagliarini al verdure grigliate — tossed with grilled zucchini and yellow squash, tomato and basil, then topped with slices of ricotta salata ($21)
We ended the meal with the rustic apple crostata topped with vanilla gelato and caramel sauce ($9).
Instead of pre-theatre dining, I suggest you get a reservation at Orso at lunch, on a non-matinee day or after the theatre crowd leaves for the curtain.
– bonnie
Orso
Hell's Kitchen
322 W 46th St
New York, NY 10036
(212) 489-7212