CITY EDITIONS
June 17, 2011
My first visit to Oaxaca — New Haven's newest edition to its lineup of authentic ethnic restaurants — was the week it opened during the city's restaurant week. I'd say that was a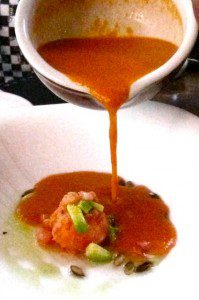 mighty brave time for international chef-owner Prasad Chirnomula to open. Prasad is best known for Thali, his Indian restaurants in the state (New Haven, New Canaan, Ridgefield, Westport).
From what I tasted then, I knew I would be in for a treat once the restaurant got into its rhythm.
Oaxaca is located on College Street in the previous home of the Ethiopian restaurant Caffe' Adulis. The new hip restaurant is named for the cuisine of Oaxaca de Juárez, a  state in southern Mexico well known for its moles — complex sauces. I'm betting that Prasad will also be known not only for his moles but for his other creative and complex-flavored foods.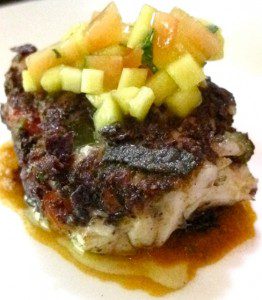 Of course, start with their Signature Cocktail – Oaxaca Margarita ($10). Then the choice becomes more difficult as there are so many good options. Consider Prasad's unique version of gazpacho: Jitomates ahumados y gazpacho con Albahaca. It starts with a bowl containing some red pepper sorbet topped with toasted pepitas (pumpkin seeds), diced tomato and cubed avocado, drizzled with jalapeno oil and then the server pours over the charred tomato chilled liquid ($8).
Or try his Pastel de Jaiba con Maiz Azul (Blue Crab Blue Corn). Crab seasoned with garlic onion, tomato, lime and cilantro in a blue corn chip crust topped with a mango-papaya relish and served in a pool of charred tomato coulis — pureed grilled tomatoes sauteed in olive oil with  jalapeno and red onion, then finished with cilantro, cumin, cayenne, lime and garam masala ($12).
Or sample the Enchilada de Langosta - lobster filled tortilla with chopped tomato and onion in a poblano pepper cream ($14)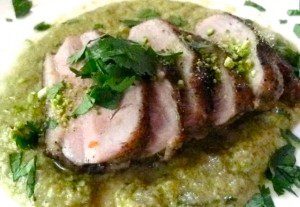 . Simply sublime.
Each entree I've sampled so far has been worthy of another trip to Oaxaca. These include Pato a las Brasas — charbroiled duck breast in a delicate tomatillo pistachio mole ($19);  Bistec a al Parilla – marinated and grilled hanger steak served with Oaxaca black bean salsa, sweet corn and jalapeno pan juices ($21).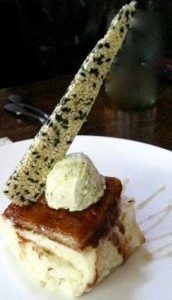 Perfect at any time is Prasad's version of the hamburger — the Bufalo Chorizo Hambuguersa - a buffalo (75%) chorizo (25%) burger on a brioche roll topped with queso (cheese) Oaxaca, guacamole mixed with pica de gallo, poblano peppers, caramelized onions and served with chili fries – fries flecked with chili peppers ($13). This is on the anytime menu – and you just need to know to ask for it.
The three dessert choices are just as unusual and tasty as the other menu offerings. There's Sopapilla Cheese Cake -  a freshly made sopapilla cheesecake topped with a creamy avocado gelato flecked with chopped pinenuts; an orange-scented Mexican flan; and a Tres Leches Cake a moist three-milk cake served with a tequila-based margarita creme (each $7).
- bonnie
Follow @BonnieBOTB


Oaxaca Kitchen
228 College, New Haven, CT,
New Haven, CT 06511
(203) 859-5774
www.oaxacakitchen.com

One Comment on "Oaxaca, New Haven"
Sharon Huttner Says:


I've been to Oaxaca three times since its opening and have had three wonderful meals. His sauces are exquisite. New Haven now has its own "Rosa Mexicana", an upscale Mexican restaurant in NYC, right here in town.
Rate This Product
Mouseover the crowns to highlight your rating and then click to record your rating. The rating shown is the average of all the user votes. You can only rate each product once.
Leave a Comment or Write a Review
Posting Policy
Bite of the Best encourages our readers to comment on and review any products that we write about. Please express your opinions in a mature and civil tone of voice. We will not post rude or otherwise inappropriate material on Bite of the Best. We look forward to your comments and reviews!