I don't think anyone is going to walk out of the New Haven Meatball House saying their mother should be ashamed of herself for making inferior meatballs to what's being served.  That said, the meatballs are very good, and there's something for everyone as  they offer a variety of meatball options – beef, pork, chicken and yes, vegetarian.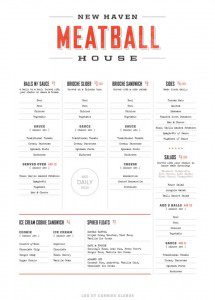 You can have a bowl of meatballs, meatball sliders, meatball sandwich, meatball salads, all with the option of a variety of pastas or other side dishes, including kale, mashed potatoes, quinoa, macaroni & cheese and more. Sauce selection includes traditional tomato, pesto, creamy parmesan and mushroom. Everything on the menu is very reasonably priced, which is great for the local Yale students, along with everyone else.
We ordered the bowl of meatballs ($7 for 4 meatballs) in all varieties, with each sauce on the side and most of the side dishes.  Now you may be wondering – it's a bowl of meatballs, how do you tell t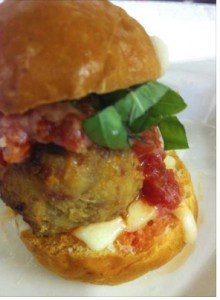 hem apart when they're all placed on the table?  Fancy frilly colored toothpicks that's how!  Beef gets red, vegetarian green…you get the picture.Each was excellent – particularly the vegetarian! The sides were also delicious…especially the kale with pine nuts (pignoli nuts for you Italians).
The New Haven Meatball House, the third restaurant from the owners of Prime 16 and c.o. jones,  offers a full bar with a couple of Connecticut offerings: a Rime Organic vodka from Ashford and Onyx Moonshine from Manchester. They also serve spiked floats!
New Haven Meatball House
1180 Chapel St.,
New Haven
203-772-3360