TIDBITE
April 29, 2011
In writing about the semifinalists for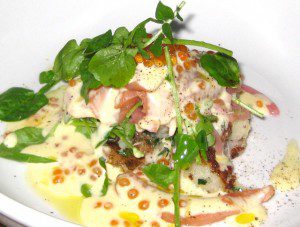 the James Beard awards I noticed Le Farm — a restaurant in Connecticut that I hadn't experienced.
I had to sample it — as it was one of two Connecticut restaurants that were even mentioned. I wasn't disappointed.
The small restaurant is located in a small shopping center on the Post Road, near the Westport Playhouse.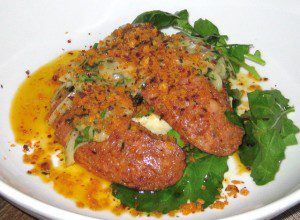 The smoked trout with fried chunks of potato, seasoned with horseradish came topped with a not too rich (Read: nicely balanced) roe hollandaise ($16). My favorite dish of the evening.
The griddled chorizo came with an onion dressing and a way too salty cheddar grit cake ($15), which I mentioned to our attentive waiter. He removed it from the table and went to discuss it with chef owner Bill Faibe. Moments later, Bill was standing beside the table, thanking me for pointing it out. Bill removed the grit cake from the menu and removed the dish from our check.
Next we tried the arugula, sorrel & dandelion salad with Meyer lemon, a soft-cooked egg, capers in a Parmesan dressing ($15). Light and unusual.
We followed that with a leg quarter of  duck confit with beluga lentils, tomcat gra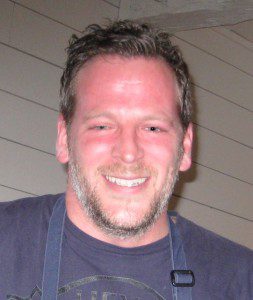 pes,  mushrooms and verjus ($16).
Desserts ($10 each) were amazing – with my favorite a not-yet-on-the menu almond joy  – almond gelato, chocolate sauce and with a macaroon; the warm "slightly  gimmicky" as the NYTimes referred to it cornbread with maple-chili gelato, candied bacon and local honey (Sorry, I'm not from the bacon-in-everything camp.); vanilla bean panna cotta with cherry marmalade and pistachios; and a delicated chocolate pot de creme with peanut butter cream and salted pretzels.
- bonnie
One Comment on "Le Farm, Westport"
Charles R Says:


Le Farm is a very small dining room over packed with tables and chairs. For a restaurant of this type and kind, that is truly mediocre. Please take out some tables and put in more comfortable chairs.

The four of us shared the Whipped chicken livers, bacon jam, whole grain bread;
Roasted sweet breads, 2 G's watercress, bacon, chicken jus, potatoes,
Grass fed beef marrow, parsley mustard, caramelized onion bread; and
LaCINATO kale, farro, dried cherries, dates, pistachios, aged white balsamic.

We then ate the Griddled pork belly, rst. corn, cukes, sun gold tomatoes, fried egg
Roasted hanger steak, snow peas, fried potatoes, radicchio, béarnaise sauce
Roasted LAMB NECK, pickled tomatoes, olives, rosemary fries, chimichurri, an d
Roasted duck breast, peach butter, yellow beans, red beets, huckleberry vin

Clearly there is an enormous amount of technique demonstrated by the preparation of the dishes. Unfortunately the seasoning and spicing was uneven on several dishes. The livers, sweetbreads, port belly and steak were wonderful. The kale salad had no zing, and craves for some acid, seasoning and spicing. The marrow was tasteless coagulated fat. Please caramelize with intense heat and work out the seasoning and spicing. The duck breast was served in two over sized chunks of overcooked meat. The lamb neck needs to be rendered better with heat and seasoned and spiced better.

Clearly they were just having an off Saturday night, and maybe are showing a little burning out. Unfortunately the prices combined with the enormous amount of expertise and training of the chefs cause the restaurant to be judged in a league that makes this inexcusable. I am glad I ate there but I would not recommend the restaurant when these issues combine with their uncomfortable dining room.
Leave a Comment
Posting Policy
Bite of the Best encourages our readers to comment on and review any products that we write about. Please express your opinions in a mature and civil tone of voice. We will not post rude or otherwise inappropriate material on Bite of the Best. We look forward to your comments and reviews!