TIDBITE
September 20, 2013
At about 3 pm, we were almost to the coast of Oregon looking on line for someplace to eat. Kyllo's Seafood & Grill seemed to have the best online rankings we could find via our iPhones when a couple miles from the coast.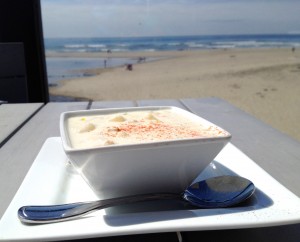 We booked it.
The location on the deck overlooking the Pacific ocean and beach was beautiful. We quickly ordered a few things to curb our hunger while we looked over the menu. 
The creamy fresh clam chowder ($4 a cup) was one of the best things that meal. Not as good were the greasy and bready Kyllo's crabcake served in a puddle of red bell pepper sauce ($12), nor the overcooked crisp calamari ($9.75). We left most of both.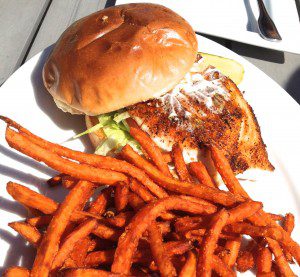 What was flavorful — but plated barren of any sort of garnish — were the boneless Dungeness crab legs ($22 a luncheon portion) served drawn butter and garlic bread. The grilled halibut sandwich ($18) was fine — nothing to rave about — served on a potato bun, along with sweet potato fries (+$2.00) in lieu of regular. Also okay was the lightly breaded north Pacific center-cut halibut fish and chips ($24) served with greasy French fries and cole slaw.
All food was okay, nothing I'd go out of my way to try – that is unless you just wanted to sit on an outside deck and enjoy the sunny view.
- bonnie
Kyllo's Seafood & Grill
Lincoln City
1110 NW 1st Ct
Lincoln City, OR 97367
(541) 994-3179
2 Comments on "Kyllo's Seafood & Grill, Lincoln City, OR"
Karl Morrison Says:


The wife and I had lunch today at Kyllos, well known to us for good food; good service. Sat in the lounge as usual because it's not as loud, crowded as the family section. Placed our order and sipped our drinks. A woman in her late twenties seated herself at the table next to us, opened her laptop, and sat her phone next to her. We thought, maybe she's just going to be working on some homework, a term paper, something quiet. Instead, we hear her talking to someone on her phone (loudly)saying "now unplug your router and plug it back in again" and "we're going to reboot your computer now". SHE'S A TECH SUPPORT PERSON HELPING CUSTOMERS. She helped three customers while we had to listen to her conversation.
We asked the bartender if that was allowed there. She said the manager "Brian" did not allow WIFI activity there except for standard phone service. We let her know it bothered us listening to the neighbors gabbing while she nursed her one drink while we were trying to enjoy our meal ($65+). She went over to the neighbor and instead of voicing our complaint, ask "Is there anything else you need?" The neighbor said she was OK and asked if there was any problem with her doing her work with her computer/phone? The bartender said she had no problem with it and left, not even mentioning our discomfort. I guess the customer satisfaction of a tech support employee nursing one drink is more valuable to the wait staff at Kyllos than a customer of six+ years who spends $50-$80 a pop. We will be looking for a replacement eatery; though it will be hard to match their meals.

Bonnie from BiteoftheBest.com Says:


Karl, Thanks for sharing. Doesn't sound like a pleasant experience. I suggest calling Kyllo's manager or owner to let them know what happened.
Leave a Comment
Posting Policy
Bite of the Best encourages our readers to comment on and review any products that we write about. Please express your opinions in a mature and civil tone of voice. We will not post rude or otherwise inappropriate material on Bite of the Best. We look forward to your comments and reviews!